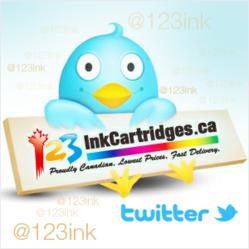 Lachine, QC (PRWEB) April 18, 2013
Canadian based 123inkcartridges.ca just hooked up via social media platforms Twitter and Google+. The company announced that they are attempting to increase more direct communications with their customers by using social media outlets. Social media will allow them to make exclusive offers or deal options available to their customers who follow them via social media channels. The business also hopes to draw more consumers to their website through these online traffic sources.
The growing company plans to make a move toward consumers by offering other types of campaigns as well. For instance, in the near future they hope to announce that they will be hosting an outdoor campaign which will increase customer awareness of their brand name. Spokesmen for 123inkcartridges.ca state that this is a branding strategy which is meant to reach a more local audience.
The online store has been growing in popularity over the last few years and has expanded their inventory to offer customers a wide variety of products. Consumers can find 123inkcartridges.ca on twitter by searching for their hashtag "#123ink" or they can visit the company's official site at http://123inkcartridges.ca to obtain more information. Customers can connect with their social media sites to obtain exclusive specials, or visit their site to see their inventory of over 10000 products.
About 123inkcartridges.ca
123inkcartridges.ca is a Canadian based company that began by solely offering printer ink and toner cartridges to consumers across North America. Their business plan was to offer only the highest quality products at prices that consumers would find affordable. They quickly began to grow and soon expanded to include a wide variety of computer accessories. It did not take too long until they realized that consumers had many more needs so they continued to expand their product line to include various digital and computer items that consumers had a desire for. Eventually they also began to include a few hard to find or novelty items in their inventory. They are still one of the premier online stores available today and have an in house inventory of more than 10,000 products which can be purchased and shipped across the US and Canada. The full inventory and more information can be found on their official site at: http://www.123inkcartridges.ca.