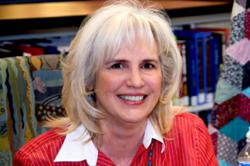 "We are delighted to have Nancy E. Turner as our guest speaker at our grand opening," Phyllis Durden said. "Her books fly off the shelfs at Hozhoni bookstore."
Tubac, Arizona (PRWEB) April 18, 2013
Phyllis Durden and Jody Jones are excited to announce the grand opening celebration of their new business, Hozhoni, on Sunday, April 21 from 2 to 5pm. The afternoon will include a reading by renowned Tucson author Nancy E. Turner followed by a party with make your own ice cream sundaes, gourmet coffee, music and dancing on the patio with entertainment provided by The Roadrunners. Turner is the author of 'These is My Words', 'Sarah's Quilt', 'The Star Garden' and 'The Water and The Blood'. Turner will present a reading and give an introduction to her new novel, 'My Name is Resolute' which will be released in January 2014. The presentation will be in the Hozhoni bookstore, located in the Village of Tubac at 22 Tubac Road from 2:15 to 3pm.
Phyllis's past experience as an Antique Shop Owner, financial planner and school administrator led her to once again open her own business. "The first time we visited the area we felt magic, the uplifting of our spirits," Phyllis said. "After experiencing Tubac's out-of-the box environment and meeting the locals, we knew this is where we wanted to be."
Formally the Chili Pepper, Hozhoni is a relaxing and friendly gathering place focused on nourishing the mind, body and spirit. Enjoy delicious organic free trade coffees, teas, Mexican chocolate drinks and gourmet ice cream while perusing the award winning selection of Southwest books for adults and children.
Hozhoni is open Monday through Saturday from 9:15 to 5pm and on Sunday from 11am to 5-m. The shop is located at 22 Tubac Road, Tubac, AZ. 85646.