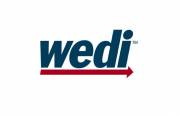 RESTON, VA (PRWEB) April 17, 2013
Following the successful 2013 WEDI Report Executive Steering Committee kickoff meeting on April 2, 2013 at the Ronald Reagan Building and International Trade Center in Washington, DC, WEDI announced the completion of the 2013 WEDI Report roadmap and disclosed the final list of Executive Steering Committee members and advisors.
During the initial WEDI Report Steering Committee Meeting, members and advisors discussed the issues that should be addressed in the 2013 WEDI Report, including the electronic healthcare information disconnect in administrative and clinical processes, identifying roadblocks to avoid or overcome, and suggesting potential industry solutions that enhance value throughout the healthcare system at a lower cost. The group also identified several megatrends that they believe provide a framework for achieving the objective of the WEDI Report. The committee decided that the report will focus on identifying business model attributes in four areas:
1. Consumer (patient) engagement through improved access to pertinent data
2. Alternative payment models and requisite business, information, and exchange requirements
3. Existing standards for exploring ways to better align administrative and clinical information capture, linkage, and exchange
4. Business cases for innovative encounter models using existing and emergent technologies
Workgroups are being formed in these four topic areas and their descriptions are available on the WEDI website at: http://www.wedi.org/workgroups/2013-wedi-report-workgroups
The full list of WEDI Report Executive Steering Committee members and biographies are also located on the WEDI Website at: http://www.wedi.org/topics/2013-wedi-report
"It is exciting to see our industry leaders come together to identify key issues impacting today's health care system and to join forces in addressing them," said Jim Daley, WEDI Chairman. "The four topic areas will serve as a launching pad for enhancing the delivery and administration of health care as well as identifying opportunities for increased efficiency through use of technology."
INTERVIEW OPPORTUNITY – APRIL 22, 2013
Members of the press are invited to attend a media conference call on Monday, April 22nd from 9 – 10 AM ET. Reporters will have the opportunity to hear from members of the WEDI Report Executive Steering Committee along with Honorary Chair, the Honorable Louis Sullivan, M.D., Jim Daley, WEDI Board Chair and Devin Jopp, WEDI President and CEO. Contact Leanne Cardwell at lcardwell(at)wedi(dot)org to register to attend.
About WEDI
The Workgroup for Electronic Data Interchange (WEDI) is the leading authority on the use of Health IT to improve healthcare information exchange in order to enhance the quality of care, improve efficiency, and reduce costs of our nation's healthcare system. WEDI was formed in 1991 by the Secretary of Health and Human Services (HHS) and was designated in the 1996 HIPAA legislation as an advisor to HHS. WEDI's membership includes a broad coalition of organizations, including: hospitals, providers, health plans, vendors, government agencies, consumers, not-for-profit organizations, and standards bodies.
About the 2013 WEDI Report
On the 20th anniversary of the original WEDI Report, WEDI is bringing together healthcare, corporate and government organizations to create an updated WEDI Report to guide the future of health information exchange. The 2013 WEDI Report will be overseen by a WEDI Report Executive Steering Committee consisting of representatives from 15 organizations representing healthcare, corporate, and government organizations, and led as Honorary Chair by former Secretary of HHS, The Honorable Louis W. Sullivan, M.D, who established WEDI in 1991.
The 2013 WEDI Report will identify the impacts of administrative and clinical technologies on the healthcare industry since 1993 and the likely role of emergent technologies in the years ahead. High-level lessons learned and the impact of technology and market forces on the original recommendations will also be documented in the updated report.
WEDI Report's Founding Sponsors are Availity, Verizon and the WEDI Foundation.