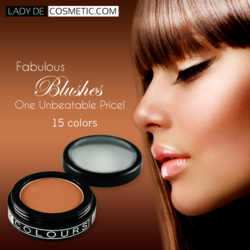 We're making high quality cosmetics affordable to anyone and everyone.
Los Angeles, CA (PRWEB) April 19, 2013
Lady de Cosmetic, the online "makeup superstore" known for its large selection and low prices, has recently rolled out a new line of sheer, velvety blushes from Unik Colours for spring. These high-quality blushes come in an assortment of soft and sensual colors and cost a fraction of what big name brands cost. These shades are unique to Unik, and cannot be found elsewhere.
"We invite everyone to visit our online store at http://www.ladydecosmetic.com and see these amazing blushes for yourself," says Daniel D., Lady de Cosmetic's general manager. "We're making high quality cosmetics affordable to anyone and everyone. Times are tough, and name brand cosmetics are out of reach for most American families."
Indeed, surveys have shown that luxury products, such as cosmetics, are usually the first things to be sacrificed from the budget of the average struggling family. These Unik Colours blushes are especially appealing to the teenage girls, as they are affordable and therefore can be experimented with
Lady de Cosmetic features products designed to appeal to American tastes and sensibilities and this line of Unik Colours blush is no exception. "The colors are subtle yet dramatic," says Mr. D., "young American girls will love these."
American girls seem to be responding in the affirmative, as Lady de Cosmetic is quickly gaining high visibility on the Internet from fashion bloggers and on Facebook and Twitter. "Many colors, excellent quality and great prices - these factors make Lady de Cosmetic's products a real contender in the race with name brands," tweets one fashionista.
"People ask us how we can offer these incredible prices," says Daniel D. "For us, it's actually not that hard, as we have many long-established contacts with manufacturers of quality cosmetics abroad, and we can import huge consignments of these products at rock bottom prices. This gives our customers the same huge buying power that we have. We expect to add up to 500 more popular makeup and cosmetics products within the next few months. We look forward to see all our fans and customers happy, excited and beautiful."
News provided by the TRIXMEDIA Marketing Team