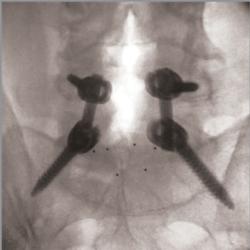 The REmind LES Screw is another testament to the technologies driven by the LES philosophy
Beverly, Ma (PRWEB) April 18, 2013
SpineFrontier, Inc., a medical device company focused on developing less exposure surgery (LES) technologies, announced today the product launch of the PedFuse REmind Pedicle Screw System. The system is intended for LES Midline Lumbar Surgery.
"The REmind LES Screw is another testament to the technologies driven by the LES philosophy that we as surgeons can easily adopt and that allow for maximally effective treatments with minimal tissue disruption," said the founder and CEO of SpineFrontier, Dr. Kingsley Chin.
The PedFuse REmind Pedicle Screw System is a Less Exposure Surgery (LES) technology that provides immobilization and stabilization of spinal segments as an adjunct to fusion. The REmind Quad H Screw's Cortican thread technology optimizes its purchase for cortical and cancellous bone and allows it to advance with half the turns of a standard screw.
"The REmind LES Screw is ideal for surgeons who prefer pedicle screws over other technologies like FacetFuse screws, but who want to perform LES techniques. Placing the LES screw through the pars and fixating the pedicle using a mediolateral trajectory, versus starting from the traditional point lateral to the facets, means a standard midline incision with minimal tissue retraction is all we need. The new Quad H Cortican thread technology design provides stronger fixation in the cortical pars bone as well as within the pedicle and vertebral body. Other advantages of the screw include less likelihood of hardware irritation of the muscles, avoidance of the adjacent facet capsule, and the opportunity for the surgeon to place bone graft along the retained facets and lamina for fusion," said Dr. Chin.
Dr. Chin is a graduate of Harvard Medical School and trained in orthopaedics at the multiple Harvard hospitals, including Massachusetts General Hospital in Boston. He is a board-certified orthopaedic spine surgeon who completed a fellowship in spinal surgery at Case Western Reserve University under the mentorship of Henry H. Bohlman, M.D. Dr. Chin practiced for four years in academia at University of Pennsylvania Medical School and was an Assistant Professor of Orthopaedic Surgery and the Chief of Spine Surgery. He is the founder and Medical Director for the Institute for Modern and Innovative Surgery in South Florida where he practices spine surgery.
About Less Exposure Surgery (LES)
"The Less Exposure Surgery (http://www.les-society.org) philosophy is to use proportionate exposure for maximal effectiveness, to preserve the anatomy, diminish blood loss, surgical time, and exposure to radiation," said LES Society Course Chairman and spine surgeon Kingsley R. Chin, M.D.
About SpineFrontier
SpineFrontier Inc. (http://www.spinefrontier.com) is a growing medical device company that designs, develops and markets technologies and instruments used in spine surgery. The SpineFrontier team is focused on developing innovative and disruptive technologies and techniques for spinal surgery based on the Less Exposure Surgery (LES) philosophy. These technologies allow for same day outpatient surgery with minimal disruption of the tissues. The company was founded in 2006, released its first products in 2008, and is headquartered in Beverly, MA.
Contact
Media: connecting(at)spinefrontier(dot)com