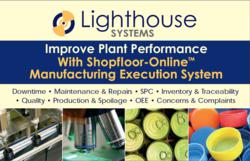 We were looking for a factory information system that would bring all of our data sources together in an intelligent way
Rochester, NY (PRWEB) April 18, 2013
Shopfloor-Online, Lighthouse Systems' MES Software will be on display in the Solutions Hall on booth number 406 at the Industry Week's Best Plants conference. The conference will provide attendees with all of the knowledge they need to help achieve their operational goals and objectives. Attendees will have an opportunity to network with over 600 other peers from the industry, acquire ideas on how to obtain better performance from their plant and gain a point of reference with other factories from local plant tours. Some main features of the conference include:
High Profile Keynote Speakers will be on hand to discuss their experiences in manufacturing. Key executives from companies like Michelin, BMW and Ariens will discuss their experiences with critical manufacturing topics like Lean Manufacturing, Continuous Improvement, and Employee Empowerment.
Register for Plant Tours! Attendees can register for various plant tours at factories like Baldor Electric, Bosch Rexroth, Taylor Made and Caterpillar. All tours include information regarding each facilities continuous improvement initiatives and Lean Manufacturing practices.
Attend Break-Out Sessions and learn from folks who have "done it before." The sessions will be broken into tracks like Continuous Improvement Fundamentals, Supply Chain Strategies, Workforce Development and more!
The Solutions Hall is a great place to talk to Exhibitors about their solutions. Lighthouse will be on hand to demonstrate how their MES software has helped manufacturing plants capture and report on critical operational data like Traceability, OEE and Quality check information.
About Lighthouse Systems
Lighthouse Systems is one of the world's leading developers of Manufacturing Execution Systems, with offices in London, Singapore, and Rochester, NY. Lighthouse Systems Shopfloor-Online is web based modular software that provides real time visibility of the entire manufacturing operations environment. Applications include Maintenance Management, Concern Management, Quality, SPC, Downtime, OEE, Spoilage and Inventory Traceability. Shopfloor-Online is being used in a wide range of industries with some of the biggest manufacturing companies; it is deployed in 15 languages in 28 countries.