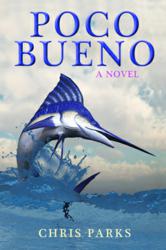 Some days the man conjure the fish, most days the fish conjure the man.
Boulder, Colorado (PRWEB) April 22, 2013
Story Arts Media publisher Joseph Daniel announced today the ebook and print release of author Chris Parks's long-anticipated novel, Poco Bueno, the story of two young bluewater fishermen from Texas chasing the dream.
"This book might very well be the next great American western," said Daniel. "Albeit a watery one! As a writer, Chris has always been a student of classic men's fiction, and he earns top marks with Poco Bueno. You'll end up lighting a good cigar and sipping Patron on the rocks as you read your way all through the night with this book. That's what I did!"
This raucous romp reveals the plight of Stokes Summers, a 31-year-old executive in the lucrative Texas oil business. Stokes's marriage to the boss's daughter is on the skids and his true love, an over-restored 70-foot Hatteras fishing yacht, has him panicking in debt. Following his heart, and the naked-truth of his fun-loving boat captain sidekick JP, the two fishing buddies throw caution to the wind on a quest for authentic adventure and meaning.
Like the ever-churning margarita blender onboard the boat, Poco Bueno serves up a potent mix of 30-something male angst, bikini-clad willful women, testosterone-fueled antics, and off-the-charts fishing. Based on the very private, but oh-so-real, million-dollar Port O' Connor Offshore Invitational Fishing Tournament held off the coast of Texas, this book is a narrative cocktail with literary nods to Carl Hiaasen, Jim Harrison and Ernest Hemingway.
Yes, this is a novel about fishing - fishing in one of its most savage and primordial forms - but it is really a story about the ultimate inevitability of what life serves up and our ability to eat well at the feast.
Poco Bueno can be found at better bookstores and is published in print and Kindle editions on Amazon, and in all ebook formats for iPad/iPhone, Nook and Kobo. For further information about the book, please visit http://www.pocobuenobook.com. For review copies (print or digital), and/or to interview author Chris Parks, please contact Joseph Daniel.
Story Arts Media is a transmedia company based in Boulder, Colorado that focuses on "Enlightened Book Publishing and Filmmaking." It offers a hybrid publishing model for select authors, along with producing its own original content on digital and print platforms.