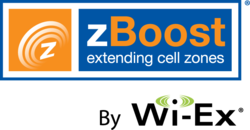 We see CCA Global Expo as an opportunity to expand our presence in this area which relies heavily on a strong indoor cell phone signal
NEW ORLEANS (PRWEB) April 17, 2013
Wi-Ex, a leading provider of consumer and commercial cell phone signal booster kits, showcased today its zBoost line of cell phone signal boosters including its higher-gain rural products, its new LTE data booster, DataBlast(TM) and its vehicle signal booster, zForce, at the Competitive Carriers Association Global Expo in booth # 234.
"With hospitals, police departments and other public safety entities already benefitting from our zBoost products, we see CCA Global Expo as an opportunity to expand our presence in this area which relies heavily on a strong indoor cell phone signal," said Frankie Smith, director of sales and channel strategy at Wi-Ex. "As we saw in the recent FCC ruling regarding cell phone signal boosters, public safety organizations are already relying on this technology to stay connected with voice and data. Since we have always used technology to protect the provider's network, we see the recent ruling as a validation of our technology and products and encourages us to continue research and investment in the area of enhancing the cell phone signal."
Recent industry statistics reveal that more than 77 percent of cell phone Internet users experience slow download speeds that prevent things from loading as quickly as they would like and another 72 percent experienced dropped calls at least occasionally (Pew Research Center, 2012). The zBoost line prevents inefficient time spent on dropped calls and slow data, providing CCA professionals across all industries efficient communication efforts through strong signal.
The complete zBoost product line consists of signal boosting technology for the home, office, commercial buildings, car and travel. Units come kit complete with an easy set-up solution. All zBoost products protect the carrier network using patented technology. Products on display at the CCA Global Expo include:
zBoost For Rural Environments
The zBoost SOHO rural units includes high-gain directional signal antenna for superior reach into rural environments. The high system gain automatically adjusts for peak voice and data performance. Products in this line include:
zBoost SOHO YX560L

Reaches up to 5,000 square feet
Compatible with all mobile phones, tablets and data cards operating on the CEL 800 MHz and PCS 1900 MHz, including iPhone, Samsung, Blackberry, Android, etc.
zBoost SOHO YX560P

Reaches up to 3,500 square feet
Compatible with all mobile phones, tablets and data cards operating on the CEL 800 MHz and PCS 1900 MHz, including iPhone, Samsung, Blackberry, Android, etc.
zBoost SOHO YX560Y

Reaches up to 6,500 square feet
Compatible with all mobile phones, tablets and data cards operating on the 800 MHz only
zBoost SOHO for Home and Office
Designed for consumers, zBoost SOHO cell phone boosters extend a Cell Zone™ for multiple users and all devices operating on 800 and 1900 MHz frequency bands except those using Nextel/iDEN, 4G or 2100MHz. zBoost SOHO boosts signal up to 3000 square feet, making it perfect for your home or office. The package includes everything you need: amplifier base unit, power supply, base unit antenna, coaxial cable (RG59-mini), signal antenna and mounting hardware. The wide radio wave beam width directional antenna receives signals from multiple cell towers. Easy-to-install, the zBoost-SOHO retails for $399.
zBoost DataBlast for a 4G Boost
In recent speed tests, the installation of the zBoost SOHO DataBlast resulted in data speeds up to 20X faster within 2,500 square feet, extending 4G LTE data speeds on the Verizon network and AWS data speeds on AT&T, T-Mobile and Sprint networks for multiple users.
zBoost DataBlast UPGRADE
The DataBlast UPGRADE enables previously installed booster products to split the signal cable and establish a new 4G Data Zone for multiple users. The only requirements in order to use the DataBlast UPGRADE is to have an existing 2G/3G boosting system that uses RG-6 or RG-11 coaxial cable and a strong outside signal.
zBoost on the Go
The zBoost zForce YX240 cell phone signal booster extends an in-vehicle Cell Zone™ for cell phones or smartphones making it perfect for travel or long commutes. The dual band unit captures outside signal and amplifies it on the inside for a more reliable signal. The zForce is easy to install and includes a bi-directional amplifier unit housed in a sturdy, lightweight cradle for hands free operation, 12V cigarette power adaptor, external magnetic mount antenna with 15 ft. cable and optional gooseneck cigarette lighter adapter.
About Wi-Ex
Wi-Ex (http://www.wi-ex.com), a leading provider of cell phone signal boosters, developed zBoost, the first consumer-priced signal booster that "extended cell zones" for the small office/home office cell phone market. Wi-Ex has expanded their "extending cell zone coverage" beyond consumers to corporate enterprises and large commercial applications. From M2M applications to large commercial complexes to the rising number of teleworkers, the zBoost line provides a business-centric solution for improving poor in-door cell phone coverage domestically and internationally. The zBoost product line works with most carriers in the US and abroad including AT&T, Sprint, Vodaphone, Verizon and T-Mobile. The award-winning zBoost home and office solutions help today's connected consumers including iPhone, iPad, Android (DROID), BlackBerry, and smartphone users with dropped calls and slow data. They were awarded a 2007 and 2010 Consumer Electronics Association Innovations Honoree by the Consumer Electronics Association (CEA) and a 2011 EXC!TE honoree. They also were selected as a finalist for the 2007 and 2009 CTIA Emerging Technologies (E-Tech) Award. As the leader, zBoost has more awards, more sales and more locations than all their competitors combined. Wi-Ex continues to develop innovative products to meet the demands of an increasingly wireless society by enhancing wireless signals.