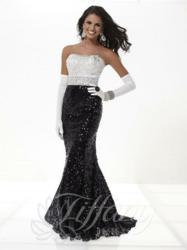 "Fake designer dresses are ruining prom night for girls all over the country."
(PRWEB) April 19, 2013
Prom fashion industry leader Tiffany Designs continues to take a stand against foreign companies flooding the market with counterfeit prom dresses and bridal gowns, urging awareness among buyers and retailers. The devastating effects of the counterfeiting epidemic on unsuspecting prom-goers and retailers are overwhelming. The scammers' sites are offering designer prom gowns at deep discounts. The online photos are misrepresenting the actual product, and these fake designer dresses are ruining prom night for girls all over the country.
These dream dress nightmares have been flooding the media, with recent news stories featured on Channel 2 News, Aol.on, the Today Show, Seventeen.com, FOX News, and countless fashion blogs across the country, all warnings for prom dress buyers about counterfeit sites, providing horror stories of fake designer dress purchases and raising awareness among prom-goers looking for a discount on their own dream dress. Tiffany Designs continues to support the efforts of the American Bridal & Prom Industry Association (ABPIA) and other fashion industry leaders fighting illegal importation of counterfeit products in the formalwear industry, with recent court victories enjoining pirate Web sites from selling counterfeit products and from using their sites to market and sell their counterfeit apparel (case number 3:2012cv07079).
Counterfeit sites are using the real manufacturer's dress shots to lure unsuspecting buyers into believing that they're purchasing the true designer's dress at a fraction of the cost. Tiffany Designs and the ABPIA offer the following tips to buyers:

Find the designer's Web site and utilize the "Store Locator" for a list of retailers authorized to sell their dresses. If the Web site/store is not listed, then beware that they are not selling true designer gowns.
The "Contact Us" page should provide a phone number and address (preferably within the U.S.), not just an e-mail, for customer service. If the site has a phone number or address in China, that's a red flag. Some U.S. phone numbers merely forward calls overseas.
In most cases, authorized retailers for designers cannot accept returns unless the merchandise has a factory defect. Beware of sites that claim you can return a dress for a full refund.
Professional dress and bridal shops in the U.S. typically rely on a few key measurements, as specified on the designer's size chart.
Cropped photos could be an attempt to disguise copyrighted images. If the models' heads are cropped off in the advertised photos, the site likely may be using them without the designer's permission.
Christina Wu and the ABPIA will continue efforts to bring awareness to all consumers, retailers, and members of formalwear industry and the general public on the harm that the marketing and sale of counterfeit products can bring to consumers and fair competition. Visit the store locator at tiffanydesigns.com to find a local authorized Tiffany Designs retailer for prom, parties, pageants, parades, and more.