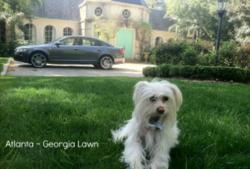 Homeowners can reduce their outdoor water use by up to 50% by converting to a water-efficient lawn.
WAYLAND, MA (PRWEB) April 18, 2013
Homeowners can reduce their carbon footprint and water usage this Earth Day by planting an environmentally friendly lawn. Ironically, typical yards are not eco-friendly, due to water inefficiencies, chemical fertilizers, and lawn-mower pollution. Pearl's Premium, manufacturer of sustainable lawn seed, offers a solution for homeowners who wish to convert to an ecological yard this spring. The new Pearl's Premium Ultra Low Maintenance Lawn Seed requires 70% less water than many traditional grasses (once established), no chemical fertilizers or pesticides, and needs roughly one-fourth of the mowing.
To keep their lawns green, homeowners use more than 7 billion gallons of water per day, roughly 60 gallons per household, according to the Environmental Protection Agency (EPA). When converting to a water-efficient lawn, the EPA states, each household can reduce their outdoor water use by up to 50%. The Pearl's Premium new, third-generation lawn seed is a water-efficient grass that develops deep roots, up to 14", enabling it to thrive with 70% less water than many alternatives and 30% less than its second-generation predecessor.
"Millions of homeowners are discovering this spring that their lawns are devastated from last year's drought," says Jackson Madnick, inventor and founder of Pearl's Premium. "It's a perfect opportunity to plant a water-efficient lawn that will stay green through droughts or water bans. We have customers in certain parts of the country who say they seldom to never have to water their lawn now that it's established."
Madnick spent eight years researching and developing the original, patent-pending seed. An avid environmentalist whose eco-friendly efforts have been commended by two White Houses, the United Nations and Al Gore, he says he wanted to develop a sustainable grass that would require far less water and no chemicals to keep it green, and that he wouldn't have to mow every weekend. Madnick says, "Most people don't realize that a typical lawn mower releases the same emissions as a mid-sized car packed with people and luggage."
Pearl's Premium has been used in over 35,000 lawns in 50 states, effectively tested in a variety of soils and conditions, and successfully grows in most areas of Canada and the U.S., even the Deep South.
Pearl's Premium Ultra Low Maintenance Lawn Seed can be purchased in stores at Home Depot (Chicago-area stores), Whole Food Markets, Mahoney Garden Centers and many independent garden centers, or online at http://www.HomeDepot.com and http://www.PearlsPremium.com.
Headquartered in Wayland, Massachusetts, Pearl's Premium was founded out of a desire to create a low-maintenance grass seed that would be people, pet and planet friendly. After eight years of research and development, Founder Jackson Madnick released the first-generation seed to market in 2009.