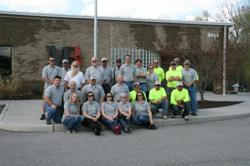 Our 100th year in business was a record breaking year.
Roanoke/Richmond, VA (PRWEB) April 23, 2013
In a sign that the economic outlook is improving, business has been good lately for Roanoke, Va.-based MB Contractors. In 2012, its 100th year of operation, the firm achieved record earnings of more than $71 million. A rising demand for construction buoyed the general contracting firm's business.
With offices in Roanoke and Richmond, Va., MB Contractors once catered primarily to the retail and manufacturing industries. The company's client base has broadened to include healthcare, senior living, education, hospitality, governments, churches, and other markets.
Mike Cagle, executive vice president of MB Contractors, attributes the firm's growth to its core values: "Our projects are a direct result of how we work – by conducting business openly and honestly, and, most of all, to deliver what is promised."
With 20 years of experience in the construction industry, Cagle has estimated and assembled bids on public and private projects ranging from under $100,000 to $40 million, which reflects MB Contractors' wide-ranging scope.
One of the firm's newest projects is the $750,000 construction of a helicopter hanger for Carilion Clinic in Lexington, Va.. Other recent projects constructed by the company include Roanoke's City Market Square, Cave Spring Middle School, Our Lady of the Valley senior living community, and Richmond area elementary schools, Broad Rock and Oak Grove.
"We would like to thank our customers for helping make our 100th year in business a record year!" says President Todd Morgan.
MB Contractors holds an A+ rating through the BBB.