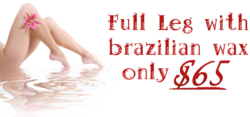 "Hair removal from the private areas really began years ago with the gay population," Gordon said. "When they would come in and ask if we provided this service, we assured them we did…now the demand has exploded among the heterosexual population as well."
New York City, NY (PRWEB) April 20, 2013
Dyanna Spa in NY is offering a Brazilian wax and full leg-hair removal spa package. This safe and effective body wax spa special is well below the usual advertised price. These two treatments, normally costing $90, are selling for $65, representing a $25.00 savings.
Dyanna Spa owner Irina Gordon said, "We're offering this particular spa special at a 27 percent discount because hair removal from all parts of the body is in great demand."
"We want people to come in and see that you don't have to be rich to be able to afford the latest spa treatments, even at our regular prices," she continued.
Long before Brazilian waxing was all the rage, Dyanna Spa was removing hair from the genital areas when they first opened their doors in 1983 and continued when they moved to their present location in 1987.
"Hair removal from the private areas really began years ago with the gay population," Gordon said. "When they would come in and ask if we provided this service, we assured them we did in the most professional and modest way possible," she stated. "Now, the demand for this particular wax treatment has exploded among the heterosexual population as well."
What are Brazilian wax and full-leg hair waxing treatments?
A Brazilian wax treatment involves removing hair from both outside and inside the bikini line, including, for women, the vaginal lips, labia and between the buttocks. Exactly how much women or men want removed is entirely up to them. Some women prefer to leave a little strip of hair down the middle, referred to as a "landing strip."
A full-leg wax treatment involves removing all the hair from the both sides of the leg – from the top of the thigh to the ankle.
For both waxing treatments, hair removal technicians use a special Azulene wax formula that is good for all skin types. They apply the warm wax to the desired areas and then cover it with paper strips. Each strip is quickly removed, along with all the unwanted hair. For sanitary reasons, Dyanna Spa adheres to a strict no "double dipping" policy and discards the application spatula after each swipe.
For those with extra-sensitive skin and for a small extra charge, Dyanna Spa's estheticians use Cirepil Blue Hard Wax, a product that has won rave reviews worldwide. The wax is applied without paper strips, and once it hardens, technicians simply remove the wax and the unwanted hair. Cirepil Wax has been an industry standard for 30 years, holds over 20 patents, and continues to be one of the most popular and effective lines of depilatory waxing products.
Dyanna Spa has been named the "Best New York Salon for Waxing and Hair Removal" for several years in a row by local review sites.
To receive information about spa special offers, discounts and new spa packages, you can sign up for Dyanna Spa's newsletter, or check out their Beauty and Spa blog.
Be social. For access to their spa specials and deals, fans can "like" Dyanna Spa on Facebook, follow them on Twitter, or read their blog.
About Dyanna Spa
Dyanna Body and Nail Salon, winner of numerous "Best of New York Salon" by Citysearch and Local.com, first opened in 1983 in New York City, offering full body waxing hair removal services and an array of nail salon services. In 1987, Dyanna Spa opened its 21st Street location in Manhattan in the Flatiron District near Gramercy Park with an expansion of services.
You can visit Dyanna Spa to schedule an appointment or to learn more about their other spa services including pedicures hair removal, massages, manicures, facials and skin care treatments, body treatments, and anti-cellulite treatments. There are spa services for men, women, and teenagers.
Dyanna Spa is located at 40 E. 21st Street in NYC.