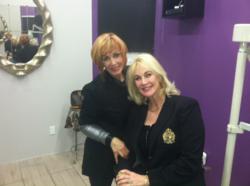 What happened with Alice was a tragedy
Scottsdale, Arizona (PRWEB) April 17, 2013
It's far more than lip service. It's about really making a difference by bringing back beauty. Permanent makeup for a woman who is battling back from the effects of lip cancer can play a key role in her emotional recovery from the disease.
Permanent makeup artist Sally Hayes understands the importance. "Discovering they've been diagnosed with cancer is scary enough," says Hayes who provides cosmetic solutions for patients with various forms of cancer. "Then when you factor in how visible lip cancer is in the center of a woman's face and what it does to her appearance and self-confidence, you can see where permanent makeup has serious value following treatment."
Lip cancer accounts for approximately 0.6 percent of all cancers in the U.S. according to the National Cancer Institute. Studies have shown women are at least 3 times less likely to develop lip cancer than men. Overall, lip cancer occurs on the lower lip 12 times more than the upper lip due to greater exposure to the sun's rays.
Sally Hayes has gone full circle for lip cancer in her career. Back in 1986, she helped a lip cancer patient at the request of a prominent plastic surgeon. The job then was to create the appearance of the woman's lip after cancer had taken away a portion of it.
Most recently, Hayes helped Northern Arizona physical therapist, Dr. Alice Hopper get back to feeling complete after her personal bout with lip cancer. A new YouTube video tells the inside story.
"What happened with Alice was a tragedy," says Hayes. "Not only did she suffer lip damage due to the cancer, she had to patiently undergo a lengthy lip reconstruction process. Then, once she finally thought she had reached her new beginning in life, a poorly skilled permanent makeup technician butchered her lips to the point that Alice wanted to hide but couldn't. I'm so excited I was able to help."
About Sally Hayes Permanent Makeup
Sally Hayes is recommended and referred by some of the premiere plastic surgeons across the U.S. With office locations in Scottsdale, AZ, New York, NY, and Las Vegas, NV, she specializes in natural-looking cosmetic solutions with eyebrow tattoos, permanent eyeliner, permanent lip makeup, and cosmetic camouflage for nipples, areolas and post-surgery facelift scars.
Contact Information:
Sally Hayes Permanent Makeup
10201 N. Scottsdale Road
(inside Salon Studios)
Scottsdale, AZ 85253
(480) 951-0539