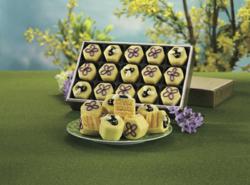 Specialty chocolates and desserts from Swiss Colony's bakery and candy kitchen are the next best thing to homemade.
Monroe, Wisconsin (PRWEB) April 23, 2013
While many cultures around the world have a day dedicated to mothers, Mother's Day in the United States is a festive celebration. On Sunday, May 12, mothers and grandmothers will be treated with special attention. Some may have breakfast in bed, others will be taken out for a nice meal and many will receive gifts. The Swiss Colony had mom in mind when creating its Mother's Day line up of delectable chocolates and desserts decorated with floral and garden motifs at http://www.swisscolony.com.
Moms will appreciate that Swiss Colony uses homemade techniques - whole eggs, real Midwest butter - all mixed in small batches to achieve sweet perfection.
The Bee & Flower Tea Cakes ($19.95) will get moms buzzing. Mini moist hexagon-shaped cakes with lemon flavor butter creme are each artistically decorated by hand with honey bees or flowers.
Butterfly Chocolates ($19.95), will delight even the most picky mothers with their luscious creamy centers and delicate Swiss creme shells. The adorable Ladybug Truffles ($19.95) are the perfect pairing to round out a garden theme.
Brighten a buffet with Little Lemon "Pies" ($18.95) that come in a colorful tin with Spring stripes. Each slice of moist yellow cake is layered with rich, delicious lemon butter creme crowned with yellow and white icing. Other lemon options include Lemon Tarts ($24.95), Lemon Petits Fours ($17.95) and a pretty Lemon Log ($21.95).
An impressive Spring Flower Tower ($32.95) includes an array of spring treats packed into decorative floral tins. Moms will enjoy chocolates, candies, mixed nuts, a classic Swiss Colony beef log, summer sausage, cheddar cheese and sweet hot mustard.
"If mom has a sweet tooth, finding affordable Mother's Day treats is a breeze either online or in our colorful catalog," explains Becky Henke, VP of Food at The Swiss Colony. "Any products from our specialty bakery and candy kitchen are the next best thing to homemade - and that's what mom would expect."
For the complete line of Mother's Day desserts, chocolates and more, shop online at http://www.swisscolony.com.
About The Swiss Colony
The Swiss Colony is a family-owned Wisconsin company that has been creating food gifts for more than 87 years. The company insists on the highest quality ingredients for a large selection of festively packaged gifts for every occasion. Exclusive recipes developed by European Master Bakers and hand-decorated novelties like no other are just two of the reasons customers include The Swiss colony as part of their holiday traditions year after year.