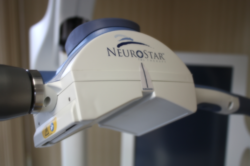 TMS is one of the most exciting and promising developments in the treatment of depression that I've seen in my 35 years of practicing psychiatry.
Mequon, WI (PRWEB) April 23, 2013
Over four million people suffer from treatment resistant depression, many with no hope that relief is out there. Integrated TMS (transcranial magnetic stimulation), an outpatient mental health clinic in Southeastern Wisconsin, has a developed comprehensive and innovative treatment, the Integrated Model, that is effective, drug free, non-invasive and ideal for those ready to rise above depression.
The Integrated Model employed at Integrated TMS is a six week, outpatient treatment for depression that combines the use of Neurostar TMS with evidence-based brief psychotherapy. This unique treatment partnership is lead by a board certified psychiatrist and complemented by therapy provided by licensed clinicians, including a clinical psychologist, marriage and family therapist and a social worker.
What is Transcranial Magnetic Stimulation?
TMS (transcranial magnetic stimulation) is an FDA-approved, non-invasive medical treatment for treatment resistant depression for those patients who have failed a trial of antidepressants. It targets areas of the brain that are underactive in people suffering from depression. The Neurostar TMS device uses focused magnetic pulses to stimulate the area to restore it to normal function and decrease depressive symptoms. Since no medication is needed, it does not come with any of the side effects typically experienced with antidepressants. This also makes it a safe alternative for those individuals seeking a drug-free solution to depression.
Integrated TMS' Medical Director, Jeffrey Taxman, M.D. has been impressed with the effectiveness of TMS with those he has treated, "My patients deserve to have the best treatments available for depression. We now have a safe, effective and non-systemic treatment for those patients whose anti-depressants have not worked, or should not or choose not to take psychiatric medications. I have seen first hand how TMS can help patients who thought that there was no hope."
The use of TMS serves as the foundation of the Integrated Model and works in concert with evidence based brief psychotherapy interventions to have the improvements be sustained and become an integral part of the client's daily life.
The Integrated Model:
Our Integrated Model equally defined by the inclusion of evidence based psychotherapy sessions providing the client with guidance, support and the tools needed to make full use of the gains made during the six week course of TMS treatments. Each session is led by either a licensed clinical psychologist or master's level licensed clinician and further enhances outcomes achieved through TMS. These time-limited, goal directed sessions use proven methods of psychotherapy to empower the client to harness their increased mood and make lasting changes to many facets of their lives. The interplay between TMS treatments and psychotherapy is unique to the Integrated Model and aims to produce outcomes in the treatment of depression that are sustained.
Psychologist and Integrated TMS' Clinic Director, Dr. Kenneth Cole, "We've been impressed with what TMS could do on its own, but are confident that the inclusion of evidenced based, short term psychotherapy will result in clients maximizing outcomes and in doing so, change how they view things and ultimately change how they do things." The integration of two proven methods of treating depression into one unique program will provide clients with the tools and support they need to get up, get out and live their lives again.
Dr. Taxman remains convinced that the Integrated Model is one that may be the missing piece to the puzzle that is clinical depression, "TMS is one of the most exciting and promising developments in the treatment of depression that I've seen in my 35 years of practicing psychiatry."
Integrated TMS is now accepting new patients. For more information on Integrated TMS, the Integrated Model or to set up interviews with Dr. Taxman and the Integrated Team, please feel free to contact their offices at 262.241.7778. You can also visit their website at integratedtms.com.