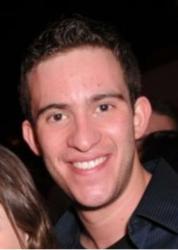 Today's challenge is not finding information. It's determining what information is relevant, accurate, and dependable.
New York, NY (PRWEB) April 18, 2013
ExpertFlyer.com®, the premier online air travel information tool, which now offers its award-winning Seat Alerts® feature free to all travelers, spent some time with UTrip.com Founder, Gilad Berenstein, to learn how his website is helping travelers simplify, and personalize, the travel planning process for a more enjoyable travel experience, even before you get there.
To achieve that personalized experience for travelers, UTrip combines cutting-edge technology, partnerships with the best content creators, and a global network of local experts to sift through millions of data points to deliver only the most personal, authentic, and accurate information to users. For now, UTrip.com focuses mainly on European destinations due to the large percentage of Americans who travel there more than any other destination in the world. Berenstein also noted that European destinations were more complex and the information was often the most fragmented and difficult to consume. UTrip will begin expanding its portfolio of destinations beyond Europe, including select U.S. destinations, in the coming months.
"Anyone who has tried planning a trip in the digital age knows there is no shortage of information on the web," Berenstein explains during his recent One-on-One interview with ExpertFlyer. "Today's challenge is not finding information, but rather sifting through thousands of pages to identify information that is relevant, accurate, and dependable. At Utrip, we break through the clutter to help travelers not only reduce the stress and confusion, but turn the trip planning process from a stressful drag to an enjoyable experience."
"There was a time when it was hard to find any information about travel destinations," says Chris Lopinto, president and co-founder of ExpertFlyer. "Today, there is so much information it's hard to determine what is important, relevant, and even accurate. UTrip.com does a great job of cutting through the clutter, providing trusted information and delivering it in a way that is relevant, and personal, to the traveler."
UTrip.com recently announced a feature called "Featured Trips" that allows experts in various fields around the world to help plan a traveler's vacation. From food critics to historians, artists to photographers, these experts bring a unique and highly curated touch to experiential travel. Through Featured Trips, these experts can directly interact with UTrip users to help them plan their perfect adventure right down to the very last detail.
To read the entire interview with Gilad Berenstein from UTrip.com, please visit ExpertFlyer's blog.
About UTrip.com
Utrip.com is an interactive travel platform that allows users to plan, purchase, and share personalized travel experiences all in one place. The web start-up, founded in 2011, and headquartered in Seattle, WA aims to give every person the opportunity to discover the world for themselves. Utrip's founding team is comprised of Gilad Berenstein, Edan Shahar, Yair Berenstein, and Bill Ritchey. Through their combined years of travel, technology and business experience, the Utrip team is now playing matchmaker between travelers' personal interests and expert, first-hand knowledge of destinations around the world. To learn more about Utrip or to plan your next adventure, visit http://www.utrip.com.
About ExpertFlyer.com
Each month, ExpertFlyer's One-on-One blog goes face-to-face with the travel industry's leading decision makers to discuss and address topics relevant to many of today's business and frequent travelers.
ExpertFlyer.com was conceived and created by an eclectic team consisting of a veteran elite tier frequent flyer, an airline captain and corporate travel manager, and information technology professionals to deliver a 24/7 real time powerful air travel information service. The company provides its subscribers and corporate travel managers alike with a complete, concise and efficient way to access the ever-changing details of worldwide air travel information. For more information, please visit expertflyer.com.
Join the fun on ExpertFlyer's Facebook page and enter to win monthly travel prize packages!
# # #