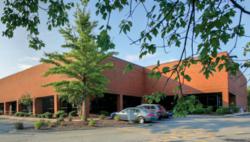 This transaction was significant for Meritex because it once again demonstrates our ability to adeptly execute a value-add investment strategy and to realize the value created through successful disposition. -Dan Williams, Chief Investment Officer
Minneapolis, MN (PRWEB) April 18, 2013
Meritex announces the sale of 2120 and 2124 Barrett Park Drive in Atlanta (Kennesaw), Georgia. The property consists of two office/industrial buildings totaling 151,665 square feet and is 100% leased to two tenants: Alorica, Inc. and Knapp Logistics Automation, Inc.
Meritex first acquired these buildings in December of 2010 as part of a ten building, 750,000 square foot portfolio. The Barrett buildings were immediately identified as disposition candidates due to the level of office finish which exceeded Meritex underwriting standards. After securing lease extensions from each of the tenants and completing required tenant improvements, the properties were sold.
Daniel Williams, chief investment officer for Meritex commented, "This transaction was significant for Meritex because it once again demonstrates our ability to adeptly execute a value-add investment strategy and to realize the value created through successful disposition."
Meritex has been an active owner/operator of industrial real estate in Atlanta since 1992. Meritex continues to own a portfolio in Atlanta consisting of 28 multi-tenant office/warehouse buildings totaling 1.9 million square feet. The Atlanta portfolio is managed by Dan Ward, director of real estate for Meritex.
CBRE brokers, Tom Shafer and John Hinson, and Nathan Pramik of TPA Group, represented Meritex in the sale of the properties.
Company Information: Meritex is a private real estate investment and management company that acquires, develops, owns and operates commercial real estate, primarily institutional grade, multi-tenant industrial properties. The Company owns, leases, and manages nearly 9.2 million square feet of commercial real estate in 7 markets in the U.S. Its portfolio consists of multi-tenant industrial, office and subsurface industrial properties. The Company's properties are located in Atlanta, Columbus, Denver, Houston, Indianapolis, Kansas City, and Minneapolis-St. Paul. Additional information can be found at the Company's website http://www.meritex.com.