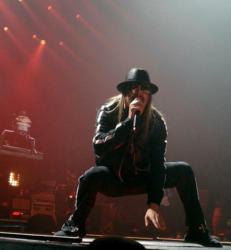 Denver, Colorado (PRWEB) April 18, 2013
Kid Rock, decrying and defying the high cost of concert tickets today, released seats for as little as 20 bucks this week. As anticipated, search traffic spiked significantly ahead of his upcoming cross-country trek.
The rock, country and rap-rock musician's Rebel Soul Tour is currently scheduled for 37 dates across the American continent and features ZZ Top, Uncle Kracker and Kool and The Gang.
To make his low ticket prices possible, the star is taking a serious pay cut, reportedly forfeiting an extra $50 to $100K in revenue to make it happen, according to data provided by theboombox.com.
The rock star's packed summer schedule begins with the Tiger Jam Charity Concert at the Mandalay Bay Events Center in Las Vegas, Nevada on May 18, 2013. From there, he hits the Burlington Steamboat Days Festival in Burlington, Iowa on June 15. The Nebraskaland Days Festival at the Wild West Arena in North Platte, Nebraska is next on June 18.
The Country Jam USA Festival in Grand Junction, Colorado is set for June 22, followed by a gig at Jiffy Lube Live in Bristow, Virginia on June 28 and the PNC Bank Center in Holmdel, New Jersey on June 29 with Kool and the Gang and Uncle Kracker.
Performances are then slated for Cuyahoga Falls, Ohio; Darien Center, New York; Scranton, Penn.; Camden, New Jersey; Mansfield, Mass.; Hartford, Conn.; Spring and Dallas, Texas; Albuquerque, New Mexico; Phoenix, Arizona; Irvine, Mountain View and Wheatland, California; Denver, Colorado; Sturgis, South Dakota; and a six show run with ZZ Top in Detroit, Michigan.
Stops in St. Louis, Missouri; Indianapolis, Indiana; Cincinnati, Ohio; Tinley Park, Illinois; Saratoga Springs and Bethel, New York; Pittsburgh, Penn.; Charlotte, North Carolina; and Atlanta, Georgia are next;
The wrap is currently set for the Live Nation Amphitheatre in Tampa, Florida on September 15, 2013.
"Kid Rock, thanks to his diverse rock, country and rap rock musical styles, has a very wide following of fans," said Felina Martinez at online ticket marketplace BuyAnySeat.com.
"Although many of his upcoming venues are already starting to sell out, we still have a complete and continuously updated inventory of tickets for fans to choose from – along with a worry-free guarantee to protect their purchase," said Martinez.
"To access the complete selection of cheap Kid Rock tickets we now have available, customers can go to BuyAnySeat.com and search for Kid Rock – then select their tickets," said Martinez.
Born January 17, 1971 in Romeo, Michigan as Robert James Ritchie, Kid Rock is known for his first commercial success, the 1998 studio album called Devil Without a Cause, which sold 13 million albums worldwide. He is a five time Grammy Award nominee and has sold 23.5 million albums in the U.S. and 27 million worldwide. (Source: wikipedia.org)
In 2010, he released Born Free, which became the political campaign theme of Mitt Romney, the Republican nominee for President in the 2012 election.
His album Rebel Soul hit in November of 2012. The lead single, "Let's Ride", is a war anthem to the United States military. The album was certified gold in April 2013. He also has initial plans for an album to follow which will be half rap and half country, with his friends in both genres penning the songs.
Kid Rock, in addition to being a singer-songwriter, is a multi-talented musician with an ability to play all types of guitars, banjo, dobro, keyboards, piano, organ, mellotron, synthesizers, drums, percussion and other instruments.
To shop for cheap Kid Rock tickets, visit BuyAnySeat.com.
About BuyAnySeat.com: An online ticket marketplace, BuyAnySeat.com connects sports, theater and other live entertainment fans to an extensive worldwide network of ticket sellers. The site's simplified listings and navigational tools enable fans to easily locate, compare and purchase inexpensive, discounted or lower-priced tickets to virtually all advertised sports and entertainment events around the globe.
The online marketplace, which is PCI-compliant and Norton Secured, also provides customers with a complete Worry-Free Guarantee on all ticket purchases. Based in Denver, Colorado, BuyAnySeat.com is a subsidiary of Denver Media Holdings. For more information, please visit http://buyanyseat.com.