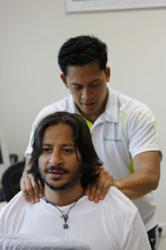 Scottsdale, AZ (PRWEB) April 19, 2013
According to The American Massage Therapy Association's 2012 Research Report, the number of on-site mobile massages increased from 39 percent in 2010 to 50 percent in 2012.
This statistics illustrates the growing opportunities available for massage professionals looking to start a mobile massage business. It also shows the necessity of scheduling software apps to grow their business.
True to their name, mobile massage professionals are "mobile" in nature. They typically do not operate out of an office or rented facility.
This requires them to adopt technologies that enable them to run their businesses profitably.
Mobile apps have become commonplace among small business owners. According to the 2013 AT&T Small Business Technology Poll, almost one-third of small businesses surveyed use mobile apps. They cited time savings, increased productivity and cost-reduction as reasons why they use them.
Of those one-third of respondents, around half said they could not survive—or survival would be a major challenge—without them.
Here are three reasons why mobile apps help mobile massage therapists grow their business:
1. Accessibility.
Mobile apps provide instant access to their calendars, schedules, financial information, client data and other information. A mobile app allows them to see their next appointments.
2. User-friendliness.
While accessing an online program via a Web site is possible through a smart phone or tablet, it's not as quick or easy as through a mobile app. Mobile apps provide instant access to information without having to navigate a Web page. This is especially true for Web sites that are not mobile-optimized.
3. Speed.
Mobile apps generally are faster than accessing Web pages through a smartphone or tablet browser. Time savings allow massage therapists to schedule more sessions during their workday.
Learn how mobile apps from Appointment-Plus massage scheduling software can grow your business. Call 800-988-0061. Visit http://www.appointment-plus.com.
#
About Appointment-Plus: Appointment-Plus helps massage therapists attract and retain clients with online self-scheduling, automated notifications that reduce the no-show rate by 70 percent, and payment-processing. It instantly syncs with Google and Outlook calendars.