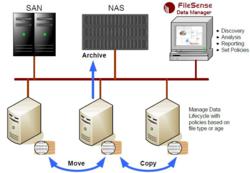 You would be amazed how much data does not belong on your network. - Shelia
Round Rock, TX (PRWEB) April 25, 2013
Storworks Software announces True File, a tool especially designed to analyze and manage data stored on networks. When the assessment is completed, the software provides an extensive report with information that can help businesses understand growth in more detail. Users can analyze by number of files added to the network, type of file or capacity increases to get a clear picture of the organizational data growth the set policies for management.
The report breaks down data by classification, extension, file size, and more categories. Storworks has produced their storage assessment software as a response to customer needs. They are the only company that offers so much detail in a storage analysis product for doing file assessment with professional reporting and file mangement at this price level.
One customer remarked, "We have used other software products to assess our data, but none ever provided the extent of information that True File does. It was a very good investment that has saved our IT Department a lot of money in the long run."
When businesses know the facts about what is located on their systems, they then gain control of their storage usage and consumption patterns.
True File generates regular reports to provide current information on data stored. With this software, businesses do not need to track and locate files manually because the software is automated to do this for them with on-screen reporting to give results quickly to help you set policies within the application.
A Storworks representative said, "We realize that every small or large business environment is attempting to find out how to control and understand the profile of the data they are storing. At Storworks, we help our customers find out how they can save money by effectively managing the infrastructure they currently have more efficiently to lower cost now."