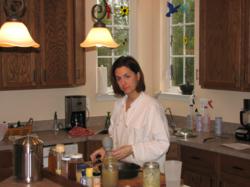 The top challenge my health coaching clients face when it comes to proper nutrition is time. The second challenge is not having the right kitchen skills.
Bristow, VA (PRWEB) April 29, 2013
Learning to cook in the Virginia suburbs of Washington, DC just got easier. "Fridays in the Kitchen with Amy," a new series of whole food cooking classes, will be offered on Fridays in Bristow, Virginia with Home Chef Amy Butchko starting May 31.
"The top challenge my health coaching clients face when it comes to proper nutrition is time. The second challenge is not having the skills to quickly get in and out of the kitchen to confidently create meals. These classes get to the root of both problems teaching how to take shortcuts in the kitchen and make amazing fresh food," said Amy Butchko. Amy is a Certified Health Coach and a Digestive Health Specialist with offices in Gainesville and Bristow, VA.
Here are the topics and dates for the first 3 classes:
Cleansing Salads and Vinaigrettes, Friday, May 31, 6 p.m.
Learn how to create quick and easy raw salads that will "wow" family and guests. Explore a variety of herbs and greens making tasty dressings from scratch.
Homemade Probiotics, Friday, June 14, 6 p.m.
Learn how to easily make traditional fermented foods that work just like expensive capsules.
Cooking 101--Meal Prep Essentials, Friday, June 28, 6 p.m.
Learn essentials skills and gain confidence creating delicious meals quickly and easily using whole foods and simple prep techniques to make nourishing meals in minutes. Find out which tools are best to make quick and easy work of mealtime prep.
All classes are $27 per person and are held at 6 p.m. on designated Fridays in Bristow, VA. Bring a friend, and it's two for $47.
Register by calling (703)791-9355 or use this link: sign up online. Classes will fill up. Please plan ahead!
About Wellness Works
Wellness Works, LLC, founded by Amy Butchko in 2009, serves individual and corporate clients near her home in Northern Virginia and nationally via phone and Skype.
Amy, a health coach in Northern Virginia, teaches the most effective methods for how to reduce stress, increase energy and improve personal wellness. She is based in Bristow, VA, specializing in nutrition and digestion offering wellness strategies for busy professionals and entrepreneurs to beat fatigue, get rid of bloating, detoxify and increase energy.
*These statements have not been evaluated by the FDA and are not to be construed as diagnosis, treatment or cure for any particular disease or malady. Cleansing is an ancient health practice and should be taken seriously but is not a substitute for competent medical intervention or for your doctor's advice. Consult your physician before embarking upon any health practice that's new for you. Results achieved will vary from person to person.