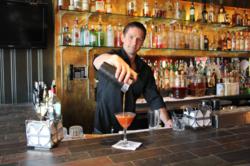 (PRWEB) April 24, 2013
Jersey Beats & Eats' social media page kicked off its "LIKE Your Locals" contest this past month with its first installment of the series, "LIKE Your Local Bartender". Followers of the Facebook page voted for their favorite local drink-slinger in New Jersey and after hundreds of votes poured in, James Smith of The Mix Lounge in Long Branch was the winner and was awarded a $100 gift certificate to a restaurant of his choice (he decided upon the new Red Bank hot spot, "Char").
Jersey Beats & Eats met up with James this past week to find out a little bit about this local favorite drink master, and to sample some of his delicious innovative cocktails. Read an excerpt from that interview below, and don't forget to pay James a visit at The Mix Lounge, located at 71 Brighton Avenue, Long Branch, NJ to see what the hype is all about
JBE: What is your signature drink?
James: The "Coma" (Cosmo/Margarita combination) and the "Perfect Gentleman" (Old Fashion/Manhattan combo).
JBE: Mmm, can you tell us the ingredients in your famous "Perfect Gentleman"?
James: Muddled fruit, sweetener, VO whiskey, B&B cognac, a dash of Angostura bitters, maraschino cherry and an orange peel twist.
JBE: What sets your bar, The Mix Lounge in Long Branch, apart from other local Jersey bars?
James: It has gone from the hip joint to a local hangout, kind of like "Cheers," where everybody knows everyone's name. And more recently we have opened up a new restaurant upstairs called the "2nd Floor."
JBE: When do you bartend at The Mix Lounge so that our readers can come and try one of your famous cocktails for themselves?
James: I work on Mondays, Wednesdays, Thursdays and Fridays. Monday is my favorite night with Happy Hour running all night. On Wednesdays we have "Locals Untapped", featuring singer/solo acoustic musicians and local beers on tap. Thursdays we feature the $7 Martini and a DJ.
JBE: Aside from The Mix Lounge, where are some places that you like to enjoy a good drink or a meal?
James: Bond Street Bar in Asbury Park and Tulipano's in Belmar.
Stay tuned for the next installment of Jersey Beats & Eats' "LIKE Your Locals" contest coming this May. Check out our page at https://www.facebook.com/JerseyBeatsEats. For more information about Bielat Santore & Company, visit its website at http://www.123bsc.com or call 732.869.4200.