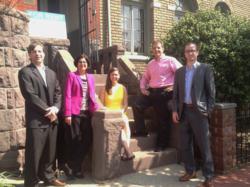 "Capitol Hill remains a strong rental market due to its highly transient population," says Rick Gersten, CEO and President of Urban Igloo, and "the statistics support our expansion."
Washington, DC (PRWEB) April 23, 2013
Urban Igloo, LLC, announced the immediate opening of its third office in one of DC's most sought-after rental markets, Capitol Hill. The 426 C Street NE location, on Stanton Park, will be the DC apartment finder company's second office in the District, with another location serving Philadelphia, PA.
"Capitol Hill remains a strong rental market due to its highly transient population," says Rick Gersten, CEO and President of Urban Igloo, and "the statistics support our expansion."
The Washington Post reports that 45% of Capitol Hill homes are renter-occupied, with an annual, median household income of more than $75,000. Nationally, only 35% of homes are renter-occupied, according to an October 2012 National Multi Housing Council report.
Urban Igloo's Stanton Park office aims to focus on matching the many landlords and renters in the Capitol Hill market, as it has successfully done for thousands of renters and landlords in a myriad of neighborhoods over the past four years.
At the three locations, Urban Igloo's licensed leasing agents meet one-on-one with apartment hunters to provide advice on and deliver tours of target neighborhoods and individual properties that match renters' needs and budget. Online, more than 5,000 renters each month search for apartments on Urban Igloo's website.
"We are thrilled that renters and landlords trust Urban Igloo – both online and in-person – to help them connect and deliver comfortable, affordable residences in a stress-free manner. The addition of our Capitol Hill location will only continue to contribute to this success," Gersten says.
He added that Capitol Hill condo owners have already taken notice of Urban Igloo's new office, meeting with Urban Igloo staff to add their properties to urbanigloo.com and gaining immediate exposure to thousands of DC area renters.
About Urban Igloo, LLC:
Urban Igloo is DC and Philly's premier apartment finder service. Founded and managed by Rick Gersten, a Washington-based entrepreneur, real estate broker and developer, Urban Igloo functions as a Match.com for landlords and renters—only powered by real people. Urbanigloo.com attracts huge numbers of renters and landlords, while the local, licensed agents match these two groups together to deliver a personalized, stress-free, local experience with a human touch.
For more information on Urban Igloo, please visit urbanigloo.com or call 877.445.6632