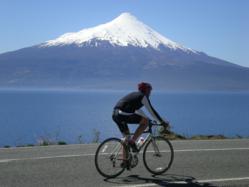 Cyclists can challenge themselves and climb Osorno volcano, one of the steepest climbs in South America.
CHATTANOOGA, TN (PRWEB) April 22, 2013
National parks are often a country's best-kept secret. This week, America celebrates preserving beautiful land for the people to enjoy with National Parks Week. Expanding the holiday across the world, BikeToursDirect, which offers more than 400 bicycle tours on six continents, has scoured the planet to find the best of these pristine, protected landscapes to be explored on two wheels.
National Parks of Dalmatia Islands, Croatia: Croatia's Mediterranean coastline is dominated by thousands of islands, reefs and bays. This bike and boat tour explores the romantic ruins, charming hill towns, and spectacular coastal scenery by land and sea. Travelers cruise between the mainland and the Dalmatia islands with daily rides, including visits to two national parks and the islands of central Dalmatia. Travelers cruise through the National Park Kornati, an archipelago in crystal-clear water known for its rich aquatic flora and fauna, to the Nature Park Telašcica. Guests then cycle through forested valleys to the Visovac Lake, which is situated on the upper course of the river Krka. In the afternoon, guests visit the most famous part of the national park of Krka with its unique waterfalls. Land cost for the eight-day "National parks of Dalmatia by Bike and Boat" tour is €890 (currently about US$1,200) and includes support van, guide, accommodations, most meals and entrance fees.
Shivapuri National Park, Nepal: This epic mountain biking adventure explores the world's deepest valley in the shadow of the world's highest mountains in the Nepalese Himalayas. Travelers ride for several days in the lush Shivapuri National Park, making several steep ascents before peeling off the main trail onto a fast descent lined with traditional Nepalese prayer flags. High above Kathmandu, adventurers traverse technical trails with glimpses of the snow-capped Himalayan mountains in the background and spend overnights in teahouses run by local villagers. Land cost for the "Nepal Mountain Biking" 12-day tour is £1,800 (currently about US$2,800) and includes support van, guide, accommodations, most meals and entrance fees.
Alto Bio-Bio and Vincente Perez National Parks, Chile: This road cycling tour averages 50 miles of riding per day on back roads through a landscape dominated by clear-water lakes and live volcanoes. Ride alongside the Andean areas of Chile's first geopark and climb up to the border with Argentina across Alto Bio-Bio National Park, reaching an altitude of 6,000 feet. Cyclists will also ride alongside Lake Llanquihue through Vincente National Park until arriving at the amazing Petrohue Falls and the Osorno Volcano. Cyclists can challenge themselves and climb Osorno volcano, one of the steepest climbs in South America. Land cost for the eight-day "Chile's Lake and Volcano District" is US$3,125 and includes support van, guide, accommodations, entrance fees, and most meals.
Hohe Tauern National Park, Austria: BikeToursDirect offers two tours with rides along the largest national park in the Alps, the Hohe Tauern National Park. The park includes all the important aspects of Alpine ecosystems, including glaciers, mountain rivers, lakes, and hundreds of peaks, many of them 10,000 feet high. These tours follow the Tauern Bicycle Path, a popular route for leisurely cycling along the Salzach and Saalach rivers. Travelers cycle about 50 miles along the northern border of the Hohe Tauern National Park, observing wildlife and Alpine landscapes from dedicated cycling paths along the undulating foothills. Land costs for these eight-day Tauern Bike Path tours are €499 (currently about US$675) for the Salzburg-to-Salzburg itinerary and €510 for the Krimml-to-Passau route (currently about US$690). Prices include accommodations, breakfasts, route maps and descriptions, service hotline, and luggage transfers.
BikeToursDirect serves as a central resource for bicycle tours worldwide, representing nearly 100 local bicycle tour companies that offer 400 tours in 70 countries in Europe, Asia, Africa, Australia and the Americas. BikeToursDirect offers a variety of resources to help travelers search for and choose tours and handles the entire booking and payment process. Learn more at http://www.biketoursdirect.com.