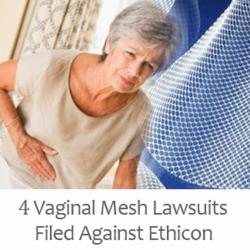 Wright & Schulte LLC offers free lawsuit evaluations to victims of transvaginal mesh injuries following implantation of vaginal mesh. Visit www.yourlegalhelp.com, or call toll-FREE 1-800-399-0795
Columbus, OH (PRWEB) April 26, 2013
Multiple vaginal mesh lawsuits have been filed by Wright & Schulte on behalf of women from Iowa, Illinois and Michigan who have suffered from serious injuries allegedly due to the defective design of transvaginal mesh or bladder mesh implants. These cases, which are part of MDL 2327, were all filed on March 4, 2013 (with the exception of one case filed on March 10, 2013) and have named Ethicon, Inc., a subsidiary of Johnson & Johnson, as the defendant. As with previous vaginal mesh lawsuits filed by Wright & Schulte, these four transvaginal mesh lawsuits will all be litigated in the U.S. District Court of the Southern District of West Virginia, Charleston Division.
Wright & Schulte, LLC is experienced in defending the rights of those who have sustained serious injuries after using defective products and medical devices. Our skilled bladder mesh attorneys are dedicated at successfully going up against large corporations. We encourage those who believe they have been injured due to the use of Ethicon's vaginal mesh slings to speak with our knowledgeable vaginal mesh implant lawyers by visiting yourlegalhelp.com or by calling 1-800-399-0795.
Alleged Vaginal Mesh Complications and Injuries
The plaintiffs in these transvaginal mesh lawsuits had all undergone surgery to have bladder mesh devices implanted in an effort to treat their pelvic organ prolapse (POP) and/or their stress urinary incontinence (SUI). Following implantation, however, all four of the plaintiffs developed seriously painful complications that allegedly resulted in permanent injuries and significantly impaired their quality of life. Some of the severe injuries reportedly associated with bladder mesh slings include pelvic and urinary pain, dyspareunia (pain during sexual intercourse), vaginal scaring, mesh erosion through the vaginal lining, an increased risk of infection, puncturing of the blood vessels/bowels/bladder and recurrence of SUI. [fda.gov/downloads/MedicalDevices/Safety/AlertsandNotices/UCM262760.pdf]
Included in the recently filed mesh lawsuits are cases filed on behalf of an Iowa woman who had the Gynemesh and transvaginal tape (TVT) implanted in 2008 (Case No. 2:13-cv-04157); another Iowa woman who had TVT implanted in 2003 (Case No. 2:13-cv-04158); an Illinois woman who had TVT implanted in 2004 (Case No. 2:13-cv-04159); and a Michigan woman who had the TVT-SECUR (TVT-S) implanted in 2007 (Case No. 2:13-cv-04803).
FDA Warns the Public About Serious Vaginal Mesh Complications
The FDA issued a vaginal mesh injuries warning in 2011, alerting the public that transvaginal mesh complications are more common than manufacturers had previously disclosed and that, in some cases, implantation of vaginal mesh devices was no more effective than traditional surgeries. Specifically, after reviewing more than 100 bladder mesh sling studies, the FDA found that about 10 percent women with these devices have developed or would develop serious injuries that require revision surgery and possibly vaginal mesh removal within one year of implantation. In some of the worst cases, women reportedly needed multiple revision surgeries to repair the damage caused by bladder mesh slings.
Other significant points included in the 2011 FDA public warning were that vaginal mesh devices had greater risks of complications than traditional surgery for treating POP and SUI and that vaginal mesh may not even be sufficient at alleviating the symptoms of prolapse. [fda.gov/downloads/MedicalDevices/Safety/AlertsandNotices/UCM262760.pdf]
About Wright & Schulte LLC
Wright & Schulte LLC, an experienced personal injury firm, is dedicated to the belief that America's legal system should work for the people. Every day, the attorneys of Wright & Schulte LLC stand up for the rights of people who have been injured or wronged and fight tirelessly to ensure that even the world's most powerful corporations take responsibility for their actions. If you're looking for a law firm that will guarantee the aggressive and personal representation you deserve, please do not hesitate to contact Wright & Schulte LLC today. Free case evaluations are available through yourlegalhelp.com or by calling 1-800-399-0795.
Contact:
Wright & Schulte LLC
812 East National Road
Vandalia, Ohio 45377
1-800-399-0795
http://www.yourlegalhelp.com