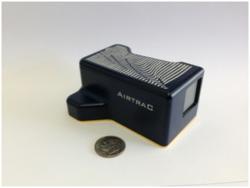 O'Fallon, MO (PRWEB) April 18, 2013
RPMC Lasers, Inc. is pleased to announce the release of a new compact AIRTRAC DPSS laser from Areté Associates. It provides a dramatic reduction in SWaP, lower cost and robust performance over environmental temperatures.
This exciting air cooled laser will provide 50mJ of pulse energy at 1064nm with pulse widths of 6ns FWHM and rep rate capability up to 30Hz. The signature feature of the AIRTRAC despite its ultra compact size (6.5cu. in. / 0.43lbs), is a resonator design that promotes a highly uniform beam. This laser has been built on a fundamentally athermal gain module which Areté has refined over several years of development.
Soon to be made available will be a version that outputs 100mJ in the IR, a longer pulsewidth version, 532nm and OPO versions. The 532nm version will give the user roughly half of the pulse energy output of the fundamental. Both of these will be offered in the same compact package.
The design of the AIRTRAC is also scalable, allowing for higher pulse energies and the addition of nonlinear optics to reach eye-safe wavelengths. Both the 532nm and OPO crystals will be internal to the laser and available in the standard packaging.
To date the AIRTRAC has successfully performed under a temperature range of -40º to +60ºC and is specified to operate up to +70ºC!
Typical applications for the AIRTRAC nanosecond laser are: laser designation, LIDAR, LIBS, ranging, medical and much more!
Since 1996, RPMC has been offering high quality dpss lasers as well as laser diodes. We currently offer millisecond, microsecond, nanosecond, picosecond, femtosecond and CW solid state lasers as well as fiber lasers. We offer some of the newest and most efficient designs available, as well as custom solid state designs. For more information on all of our lasers please contact Derek(at)rpmclasers(dot)com or call 636-272-7227 ext. 224 for more information or to discuss your application. Please visit our website at http://www.rpmclasers.com.