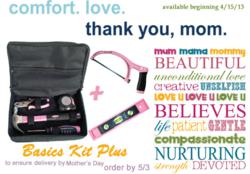 "Our tools are 'Pink for a Purpose' and on Mother's Day they represent an even greater way to support the work that is being done.", said Rickstrew.
DENVER, CO (PRWEB) April 18, 2013
Scrambling to find the perfect Mother's Day gift? Tomboy Tools is a reminder that the gift of its pink tools are not only great for maintaining and beautifying the home and garden, but a percentage of their sales go directly to organizations that support women and the welfare of animals.
Tomboy Tools (http://www.tomboytools.com) is the only provider of hands-on education and high-quality tools for women. Based in Denver, CO, the company is the leading direct seller of light-weight, ergonomically designed tools made specifically with women in mind.
Mother's Day is the perfect opportunity to celebrate women with quality gifts that help save time and money, while allowing them to give back to those who are less fortunate. From shelters to breast cancer research, and skills development to support services, Tomboy Tools is committed to being part of the solution by giving back 5% of all pink hand tool sales and $1 from the sale of their 8v Impact Drill, Pink Diamond Tool Kit, Tomboy Traveler, and Basics Kit through its Pink for a Purpose Fund initiative.
"There is no greater gift to provide to a woman than the gift of hope. That's why we support organizations advocating education, prevention, support, and treatment of breast cancer, domestic violence, and the welfare of animals," said Janet Rickstrew, CEO and Co-founder of Tomboy Tools.
Great Tool Ideas for Gifts Include:
Basics Kit Plus – Mother's Day Special $39 – The Basics Kit Plus tool kit is one of the most practical and unique gifts to give that special "mom" in your life this Mother's Day! This is perfect for someone looking for all the essentials that are needed around the house, or for their hobby or craft projects. The Basics Kit Plus contains 6 of our most popular tools, organized and stored in a flat, zippered canvas bag, along with an interior mesh zip pocket to store your smaller items. Comes with our 13 oz. Magnetic Head Hammer, Multi-Bit Ratchet Screwdriver, 16' Fractional Tape Measure, Slip-Joint (Standard) Pliers, Mini-Hacksaw, and a Torpedo Level. Order online by May 3, 2013 to ensure delivery in time for Mother's Day!
About Tomboy Tools
Founded in 2000, Tomboy Tools, an Entrepreneur magazine Top 100 Brilliant Company, is the only provider of hands-on education and direct seller of high-quality, ergonomically designed tools for women. Tomboy Tools are for sale individually, in tool combinations, and in specialty kits for projects such as mosaic tiling, jewelry making, caulking, painting, gardening and auto maintenance.
Tool parties are held nationally by Independent Consultants, where guests learn simple tool applications, cost-effective techniques, share project ideas and money saving tips, and gain the confidence to tackle basic home and DIY projects on their own in a fun, social, and engaging environment. For more information about Tomboy Tools, its products, or starting your own home-based business, contact call 303.722.1003, 866.260.1893, or visit http://www.tomboytools.com.