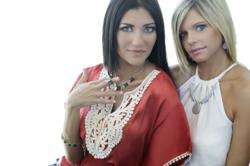 South Of Exotic is a collection of unique and beautiful pieces of silver and semi precious stone jewelry from around the world.
(PRWEB) April 19, 2013
No one understands unconditional love like our mothers and Mother's Day is the perfect opportunity to show how much you appreciate the first great lady in your life. South of Exotic offers beautiful stone and silver jewelry that will bring tears of joy to your Mom. Here are a few tips to help you pick a gift this Mother's Day that she will love forever:
1. Remember that, at South of Exotic, every piece of jewelry is a handmade work of art, a gift straight from your heart to hers.
2. What is mom's favorite color or her favorite gem? Get her something in sapphire blue, coral red or jade green but remember that many gems come in a variety of shades to suit her specific personality.
3. Where was mom born? Where has she lived? Many states have an official gem, so remind her of Texas every day with a blue topaz, Oregon with a sunstone or West Virginia with a chalcedony.
4. When was mom born? Some will tell you birthstones are a tired cliché. They are not cliché, from a January garnet to a December zircon, they are the classics!
5. How often does she wear jewelry? Consider a ring or set of earrings for everyday wear; choose a bracelet or necklace for special occasions.
6. How old are you? Many traditional wedding anniversary gifts are gemstones; why not pick one that honors her many years of loving you?
7. Has mom always wanted to travel? Bring that exotic dream vacation home to her (or remind her of one she has already taken) with fine jade or oriental pearls.
8. Get something exciting – something not all her friends are already wearing – something with a tiger-eye opal, a brilliant turquoise or an amazing rainbow jasper.
9. Working on a tight budget? Aren't we all these days! Stone and silver jewelry is far more affordable, and just as beautiful, as customize jewelry.
10. Be sure to include the discount code PR SOE PR1 for 20 percent off your Mother's Day order at South of Exotic!
Happy Mother's Day!