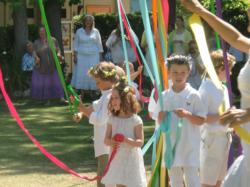 Free and open to the public, the May Faire at Highland Hall is a "don't-miss" festival for families with children of all ages.
Northridge, CA (PRWEB) April 17, 2013
Highland Hall Waldorf School's annual May Faire will be held May 4th from 12-5pm. Free and open to the public, this is a "don't-miss" festival for families with children of all ages. Pre-faire activities begin at 11:00 am with students weaving brightly colored ribbons into intricate patterns around the May Pole. The faire officially opens at noon and features freshly prepared natural food selection including tostadas with a vegan option, authentic samosas, dairy-free coconut ice cream, "Natural Flavor Shave Ice" by Sno Con Amor and more. Activities and entertainment include old fashioned games like the egg race and toddler hay bale maze, face painting, live acoustic music, Afro-Brazilian percussion performances and workshops, a story telling room, the "Creepy Crawler Petting Zoo" with mammals such as the wallaby from Valentine's Traveling Nature Class, face painting, a wandering Pocket Fairy whose myriad pockets offer tiny home-made treasures to the children and the cake walk game, featuring delectable prizes baked by the Highland Hall community. Shoppers will enjoy the array of artisan vendors selling their creations at the faire, as well as various handmade offering by the school's 12th grade economics class.
This year the faire will honor the chamomile flower as part of its spring celebration. This California native will be incorporated into crafts such as flower head-wreath making, picture frame decorating and flower pot crafting. It will also be planted along walkways to the faire and intermingled with the school's biodynamic native landscaping. Additionally, chamomile seeds will be given away at the school's welcome table.
"We chose the chamomile flower to represent our faire because of its simple beauty and rich healing properties," says Melani Gold Friedman, Highland Hall's parent association president. "Rudolf Steiner, founder of Waldorf education, used chamomile in various biodynamic gardening and medicinal preparations. He also regarded it as a herald of spring, as it grew wild over his native countryside at this time of year. What better choice for our May Faire!"
The May Faire will be held May 04, 2013 from 12-5pm at Highland Hall Waldorf School. 17100 Superior Street, Northridge, CA 91325. Admission is free. http://www.highlandhall.org 818-349-1394
Highland Hall Waldorf School is located in Northridge, California. Founded in 1955, it is the oldest Waldorf school in the western United States and offers an independent alternative to public and other private schools, providing the Waldorf Curriculum from Early Childhood through High School graduation. Highland Hall, a non-profit school, does not discriminate due to race, religion, gender, national origin, disability, or other basis protected by law.