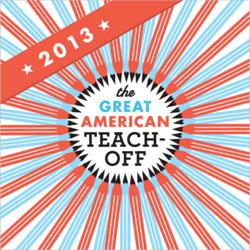 Glen Daniel, WV (PRWEB) April 18, 2013
GOOD and University of Phoenix® today named Liberty High School teacher Everett Jeremy Rodriguez the winner of the 2013 Great American Teach-Off. Rodriguez will receive a $10,000 grant to build a computerized music laboratory to help expand his students' music opportunities.
Thousands of teachers from across the nation were nominated, and Rodriguez was one of 20 teachers who were named finalists and competed for public votes in the Great American Teach-Off. Rodriguez is the winner for grades 7-12 and one of only two recipients nationwide to receive this honor.
Rodriguez specializes in the fine arts, teaching theatre and music and directing the Liberty High World Percussion Ensemble. Rodriguez aims to provide his students with the equipment and assets they require in order to allow them to collaborate in the production of original music videos, compositions, scripts and full-length stage productions.
Rodriguez hopes to further expand his students' musical opportunities by purchasing a computerized piano laboratory. In doing so, his students will be able to record and publish music with professional grade technology.
Rodriguez received his Bachelor of Arts in Music Education from Glenville State College. He serves as the Fine Arts Department Chairperson and Faculty Senate President at Liberty High School and was recently named Liberty High School Teacher of the Year.
"Teachers play a critical role in shaping the futures of our nation's children," said Dr. Meredith Curley, Dean of the College of Education at University of Phoenix. "The Great American Teach-Off is an opportunity to show our appreciation for teachers and provides a platform to share innovative classroom ideas. Curriculum in K-12 classrooms continues to evolve to be more hands-on and tie learning to real life experiences. This program celebrates teachers who engage students in creative new ways."
"One of our goals at GOOD is to elevate the passionate individuals who break norms when taking on big challenges," said Ben Goldhirsh, co-founder and CEO of GOOD. "It's these individuals' stories that fuel the cycle of inspiration. The Great American Teach-Off was created to give remarkable teachers an opportunity to inspire their colleagues and the broader GOOD community, and be rewarded for their work. The grant program has been an amazing success. We are thrilled to be running this campaign for the third consecutive year with the University of Phoenix, because, like us, they truly believe that education is a crucial component to moving the world forward."
More information about the Great American Teach-Off grant program can be found at GOOD.is/GATO.
About University of Phoenix
University of Phoenix is constantly innovating to help students balance education and life in a rapidly changing world. Flexible schedules, challenging courses and interactive learning can help students pursue personal and career aspirations without putting their lives on hold. As the flagship university of Apollo Group, Inc. (Nasdaq: APOL), University of Phoenix serves a diverse student population, offering associate, bachelor's, master's and doctoral degree programs from campuses and learning centers across the U.S. as well as online throughout the world. For more information, visit http://www.phoenix.edu.
About GOOD
GOOD Worldwide LLC. (http://www.good.is), launched in September 2006, is an integrated media, thought leadership and community action platform for people who want to live well and do good, and a community of, by, and for the people, businesses, and NGOs moving the world forward. GOOD's mission is to convene, connect, and empower the global community of people "who give a damn."
###