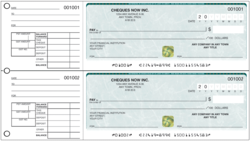 Print & Cheques Now offers up to 50% more manual cheques and 25% more laser cheques... than its competitors.
Calgary, AB (PRWEB) April 22, 2013
With over 30 years of experience as one of Canada's foremost cheque and cheque-related products manufacturers, RE/MAX has granted Print & Cheques Now Inc. its honored Preferred Supplier status.
In the early days of the Gilchrist family's cheque business, Tom and Irene- with the help of their 5 sons- would spend many an hour manually glueing One-Write cheques together in their home.
How the times have changed.
While still family owned and operated, 2 of the Gilchrist boys- Jon and Ryan- now run the company themselves and employ over 9 people spread throughout more than 6,000 square feet of production and office space.
A true 'underdog' that has made a name for itself, Cheques Now competes every day with large firms like Davis and Henderson cheques, NEBS and national banks, winning new business and acclaim in hotly contested trade space.
Print & Cheques Now offers up to 50% more manual cheques and 25% more laser cheques- as well as a higher number of security features- than its competitors. All this, at the same price other companies charge for 25-50% less product. Print and Cheques Now offers customers to order cheques in Canada or the U.S.
Being recognized by RE/MAX, Canada's leading realty firm in more than 150 markets throughout the country, is no small feat. In fact, as their slogan goes, no one sells more real estate in Canada than RE/MAX. As a discerning organization with a proud Canadian history, RE/MAX understands the importance in choosing trustworthy partners in every aspect of business.
Currently Print & Cheques Now prints collateral for over 65 RE/MAX offices nationwide. This came on the heels of several RE/MAX locations sending referrals on the quality of the Gilchrist's work to RE/MAX head office, which prompted them to add the company to their Preferred Supplier list.
Whether it's business cards, stationary items, multi part forms, or of course cheques, Print & Cheques Now strives to offer their clients better service with lower prices. Learn more about how they improve their client's operations at http://www.chequesnow.ca.