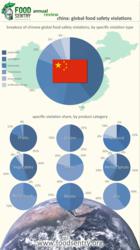 Albuquerque, NM (PRWEB) April 18, 2013
Food Sentry has announced the early results of an analysis to determine which contaminants in imported food products are most likely to be encountered by the consumer.
This study follows their recently released initial findings after analyzing nearly 1,000 reported food violation incidents in 73 countries. Lab testing results from foreign sources were reviewed in that study and indicated that the top five countries with the most violations were China, United States, India, Vietnam and Japan.
This most recent, more in-depth analysis focuses on China because it had the most violations of any single country. Food Sentry analysts looked at all contaminated products reported as Chinese in origin over a 15 month period and paired them with certain types of food. For instance, produce was most likely to be contaminated with pesticides while seafood was most likely to be contaminated with antibiotics.
According to Scott Witt, Chief Operations Officer for Food Sentry, China is a large trading partner with the U.S., and it is its largest trading partner for seafood products.
"Any walk through a grocery store will turn up literally hundreds of items from China," says Witt, "Chinese foods get a lot of bad press, so it's worth taking a look at some hard data to see what we can learn."
In summary, Food Sentry's analysis reported the following:
-Pesticides were the number one problem reported.
-Antibiotics were a particular problem with seafood from China.
-Pathogens were found mainly in seafood.
-Various chemicals were detected in excess of approved amounts.
-A wide range of mycotoxins were present.
-Toxic metal contamination was found across a wide range of products.
-Economically Motivated Adulteration (EMA) continues to be an issue in China.
For the full report please see http://www.foodsentry.org/china-and-global-food-safety-violations-a-deeper-look/