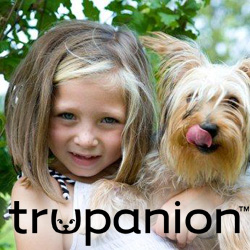 We are strong supporters of shelter pets and the Seattle Humane has been inspirational to work with. - Alison Andrew, Trupanion
Seattle, WA (PRWEB) April 23, 2013
Trupanion, the leading provider of pet insurance in North America, today announced the launch of a new shelter program that provides coverage for shelter pets with no upfront costs for 30 days. The Seattle Humane Society is the first shelter to join the program.
The program offers new pet owners the financial peace of mind that veterinary costs associated with unexpected injuries or illnesses their new pet may develop after leaving the shelter will be covered by Trupanion at 90 percent.
"Trupanion and Seattle Humane have a shared goal of keeping pets with their owners for their entire lifetime, and this program helps us to do that, as it takes the financial burden of veterinary costs off the new pet owners," said David Loewe, CEO of Seattle Humane Society. "As the largest nonprofit animal shelter in the region, we are very grateful to Trupanion for their commitment to shelter pets and their support for the more than 6,000 dogs, cats and critters who come through our doors every year."
Every pet at Seattle Humane Society is examined and under the care of the shelter's veterinary team, who provide detailed medical records of any treatment received during their shelter stay. These records are used to determine any pre-existing conditions the pet may have, so the pet owner is fully aware of what is and is not covered by Trupanion. All conditions not considered pre-existing will be covered at 90%, less a $250 deductible, with no payout limits per year, per condition, or over the lifetime of the pet. And there are no waiting periods – coverage starts immediately, and the pet is not required to visit a veterinarian after adoption.
"We are strong supporters of shelter pets and the Seattle Humane has been inspirational to work with," said Alison Andrew, senior vice president and head of the shelter program at Trupanion. "Many of us have adopted pets ourselves and we know the joy that comes with bringing home that new furry family member. To be able to provide peace of mind to these new pet owners – so their pet can get the care it needs in the event of an emergency – is a really great feeling."
Shelters are provided with all the materials they need to easily implement the promotion into their adoption protocols. Shelter employees are not expected to be trained in or experts on the Trupanion plan, but are instead asked to refer the pet owner to call Trupanion or visit the website.
Shelters in the program also receive five dollars for every promotional certificate activated by a new pet owner. So far, in the pilot, the Seattle Humane Society has received $1,680 from Trupanion related to the program.
Today, Trupanion officially launches the shelter program past the pilot, and looks forward to welcoming shelters all across the country into the program. The following requirements must be met for shelter participation:

501(c)3 status
Average of 2,000 or more dogs and/or cats rehomed annually
Veterinarian on staff
Ability to provide the following medical care to all pets before adoption:
Physical exam
FELV/FIV or heartworm test
Routine vaccines
Internal parasite control
Spay/neuter
Ability to have all pets behaviorally assessed
If you are interested in more information on how to get involved with Trupanion's shelter program, call Alison Andrew at 206.607.1892.
About Trupanion®
Trupanion is an industry leader in pet insurance, offering cat and dog insurance in the United States, Canada and Puerto Rico with the mission of delivering financial peace of mind to pet owners. Trupanion offers a simple, customizable pet insurance policy with 90% coverage for diagnostic tests, surgeries, medications, hospital stays, and alternative therapies for the treatment of accidents or illnesses. Trupanion's policy includes coverage of hereditary and congenital conditions with no payout limits per incident, per year, or over the lifetime of the pet.
Trupanion, Inc. owns and is underwritten by the American Pet Insurance Company, which has earned a Financial Stability Rating® of A, Exceptional, from Demotech, Inc. Trupanion is a founding member of the North American Pet Health Insurance Association (NAPHIA), demonstrating a commitment to high standards and transparency in all actions and products. For more information call 800-569-7913 or visit Trupanion.com. You can also follow Trupanion on Twitter or Facebook.
About Seattle Humane Society
Founded in 1897 to bring people and pets together, Seattle Humane Society provides incredible companion animals for adoption seven days a week, pet workshops and training, a pet food bank, a low-fee spay/neuter surgery program, humane teen club, a visiting pets program and more.