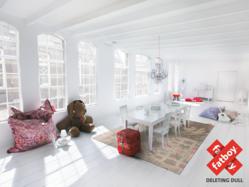 "C2-MTL's array of meticulously-designed spaces and lounges with collections from our Fatboy family, will form a collaborative sandbox for attendees to play, work, connect, and most importantly be inspired," said Paula Masters, President of Fatboy USA.
Dallas, Texas (PRWEB) April 22, 2013
Fatboy® USA is excited to announce its upcoming opportunity as an official Experiential Partner for the C2-MTL Conference May 21-23, 2013. Curated by creative agency, Sid Lee, C2-MTL is a new kind of annual global conference; one that explores the relationship between commerce and creativity, and its potential to redefine business. This immersive three-day event is designed to inspire right and left brain thinking through a smorgasbord of non-traditional experiences, including multimedia conferences by world class speakers, engaging exhibitions, collaborative workshops, a creativity Boot Camp and evening festivities. As an Experiential Partner, Fatboy® has the privilege of providing their signature lifestyle products to furnish and create a comfortable and creative atmosphere that fosters the unique ideas of C2-MTL for all conference participants.
"Finding ways to continually cultivate an atmosphere of creativity on all levels is imperative for success in our world of accelerating change," said Paula Masters, President of Fatboy® USA. "The need for creativity is obvious, but achieving it can be a challenge to execute. C2-MTL is a platform for leaders to learn how to orchestrate changes in their organizations through innovative ways that embrace and promote creativity. Our Fatboy® brand stands on a foundation of creating an experience that engages people, and our combination of C2-MTL's array of meticulously-designed spaces and lounges with collections from our Fatboy® family, will form a collaborative sandbox for attendees to play, work, eat, drink, connect, and most importantly be inspired."
During the conference, C2-MTL will tackle a series of integral business topics. C2-MTL's agenda includes everything from initiatives that transform ideas into innovation, to peer-to-peer open exchange of ideas, to understanding the inherent risks and rewards of taking chances. Every event at C2-MTL is designed to shake everything out of the box and redefine what it means to be creative.
Speakers from all backgrounds are scheduled to present, giving conference attendees a full-bodied voice of methods in innovation today. Speakers include: Richard Branson, founder of Virgin Group, who will speak on the true meaning of a "business venture"; Bobbi Brown, founder of Bobbi Brown Cosmetics; Chris Bangle, former COD of BMW Group; Blake Mycoskie, founder of TOMS; Diane Von Furstenberg, fashion icon and founder of DVF, among many others.
C2-MTL is an "off the beaten path" environment. From a Cirque de Soleil opening ceremony, to short films and interactive exhibits; C2-MTL is meant to be different. Because of its unique structure, C2-MTL is able to cultivate an atmosphere where ideas are actually created and fed.
"We believe that creating a truly immersive and at times unsettling experience for our attendees not only leads to a deeper understanding of the concepts shared by our speakers, but also creates opportunities for deeper connections between attendees. And as those executives across industries and geographies connect, converse and share, we believe we can inspire them to push the boundaries of what they believe is possible, and to take the risks necessary to achieve profound, game-changing innovation. In that sense, the success of C2-MTL is as much theirs as it is ours.," said Jean-François Bouchard, President of Sid Lee, and Curator of C2-MTL 2013.
The C2-MTL conference will be held in Arsenal, former home to a 100-year-old shipbuilding operation founded in 1846 on the waters of Canal Lachine, and recently converted to a stunning hub for contemporary art and groundbreaking events. This venue is sure to provide the immense space and dazzling capabilities expected of C2-MTL.
Fatboy® looks forward to being the official Experiential Partner of this year's incredible and innovative, C2-MTL conference. Look out for the signature Fatboy® designs from May 21-23, and learn more information about this exciting conference, at http://www.c2mtl.com.
About Fatboy®
Fatboy® is an imaginative lifestyle brand that excels in thinking outside the box. Fatboy has been challenging the concepts of lifestyle product since 2002, when it set out to create the perfect lounge chair— designed for fashion, for comfort, and tailored for an unmatched lounging experience. Today, Fatboy brings energizing comfort and smiles to people in over sixty countries worldwide with a growing line of lifestyle products. The Fatboy brand identity is anchored in iconic European design mixed with a creative twist that extends to all their product offerings. They create iconic lifestyle products with a simple yet compelling idea reflected in their tagline, Deleting Dull. Their tagline aligns with what has remained the core of the Fatboy brand philosophy from birth, which is to design captivating product to evoke an authentic change in people's minds for the better through the experience they have with their lifestyle product.
About C2-MTL - Commerce + Creativity | Montréal
Curated by international creative agency Sid Lee and founded in partnership with the Cirque du Soleil, as well as media and content partner Fast Company, the event is presented by Laurentian Bank and powered by Videotron. Many other partners also took part like SAP, Tourisme Montréal, Solotech, The Claudine and Stephen Bronfman Family Foundation, and Power Corporation. The Government of Québec, Loto-Québec, and Investissement Québec is a supporter of C2-MTL.
C2-MTL is a not-for-profit organization that seeks to reimagine the concept of the annual international conference to better explore the relationship between commerce and creativity, and its potential to redefine business. Every year, this immersive three-day event brings together innovators from every industry for an experience which makes as much use of the left brain as the right. Conferences given by renowned speakers, interactive exhibits, multimedia presentations, conceptual spaces, festive evenings, collaborative workshops, as well as a creativity Boot Camp are held in an innovative village designed exclusively for C2-MTL.
About Sid Lee
Sid Lee is a global creative team of 600 professionals crafting innovative consumer experiences to drive value for top-tier brands. The company has grown into one of the most multidisciplinary firms in the world offering a unique holistic marketing approach. Sid Lee is co-owned by Cirque du Soleil, making for a powerful partnership that fuels our ability to deliver memorable experiences driven by creativity. Their clients expand to over 20 countries from ateliers in Montreal, Amsterdam, Paris, Toronto, to New York.
# # #
If you'd like more information about Fatboy® USA and its products, please visit http://www.fatboyusa.com and http://www.facebook.com/fatboyusa or e-mail info(at)fatboyusa(dot)com.