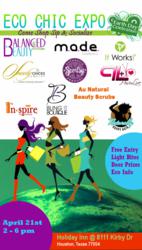 There is a better way to beauty.
Houston, Texas (PRWEB) April 18, 2013
Balanced Beauty Systems has teamed up with natural cosmetic brand, M.A.D.E. Cosmetics, to bring you the Eco Chic Expo – Earth Day Celebration and Balanced Beauty Systems product launch. Balanced Beauty Systems will be showcasing their introductory skin and body care lines as well as featuring other emerging companies from the Houston area at the Eco Chic Expo.
This event is free and open to the public. The Eco Chic Expo will be held this Sunday, April 21, 2013 at Holiday Inn (Houston Reliant Area) 8111 Kirby Dr Houston Texas from 2:00 pm - 6:00pm in honor of National Earth Day (April 22nd). Those interested in attending the event can RSVP at http://balancedbeautysystems.eventbrite.com/.
A Balanced Beauty Systems Representative states, "Great care has been given to the formulation of our products through extensive research and testing prior to our launch. We have great plans to address each area of beauty, health, wellness and fitness as we believe that there is a better way to beauty."
About Balanced Beauty Systems:
A new company focused on a holistic approach to beauty. Balanced Beauty Systems offers natural, botanical, health, wellness, and beauty products. Current products include a botanical skincare line and body care line. For more information visit [http://www.balancedbeautysystems.com.