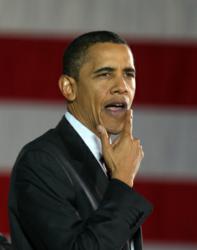 Some of us will dwell on the past and sulk as victims, but those of us who build for tomorrow will create businesses that are stronger, more durable, and more profitable as the years continue...
(PRWEB) April 23, 2013
According to the 2013 Edelman Trust Barometer, less than one-fifth of the general public believes government officials will tell the truth when confronted with a difficult issue, and as details about Obama's new health care start to surface, many small business owners wonder if they are getting the short end of the stick. But on April 18th, 2013, business growth expert, Charles Gaudet, reminded entrepreneurs not to be distracted by foolhardy economic policies and government blowhards.
"The problem is that you've got one side of the table saying 'Obamacare' will help small businesses, and people like Bernie Marcus, co-founder of Home Depot, publically stating that Obamacare will 'kill off' small business," says Gaudet, founder of Predictable Profits and according to MSN Money on April 12, 2013.
While many small business owners have felt challenged by the current economy, the uncertainty of the financial impact of the new healthcare law has many entrepreneurs discouraged. Gaudet argues, however, that small businesses need to fight back and not lose sight of the opportunities they can control.
Gaudet says that while the financial impact is uncertain, over 93% of small business owners are still under-utilizing their business growth potential, and have additional, overlooked, profit centers that could still provide an instant source of cash flow for their business, allowing for significant business growth opportunities in 2013 and beyond.
While Gaudet has several dozen growth strategies he shares with an exclusive group of entrepreneurs known as his "Insiders' Club Members," he said these strategies are built around three business growth principles.
1. The existing economy has made competition weak, yet consumers are still buying. Carefully crafted marketing messages that build a relationship with prospects will attract new customers.
2. Most business owners focus so much on getting new customers, they are completely ignoring their existing customers. Nurturing relationships with existing customers will inspire additional referrals and repeat purchases.
3. Designing an entrepreneurial environment, built around providing customers with the greatest advantage and benefit for getting them closer to their ultimate and most desired result, stimulates innovation, creates profit centers, and encourages customer loyalty.
"Let's not lose site of one thing: the government can raise our taxes and enforce complicated health care reform, but however the rules change – every one of us is playing on the same ball field," Gaudet continues. "Some of us will dwell on the past and sulk as victims, but those of us who build for tomorrow will create businesses that are stronger, more durable, and more profitable as the years continue."
For more information about Gaudet and his business building strategies, please visit http://www.PredictableProfits.com and sign up for the free newsletter.
ABOUT CHARLES GAUDET:
Gaudet has been called "The Entrepreneur's Marketing Champion" for consistently delivering windfalls of profits to his clients by unveiling hidden assets and opportunities that have been previously under-utilized, or have gone unnoticed. Gaudet started his first business at the age of 4 when he set up a tollbooth in the hallway leading to his parent's bathroom, and has been ferociously committed to the study of successful business practice ever since. At age 24, after abruptly finding himself in millions of dollars in debt, he systematically grew his first multi-million dollar business. He is the founder of Predictable Profits. Follow Gaudet on Twitter at http://www.Twitter.com/CharlesGaudet.
ABOUT PREDICTABLE PROFITS:
Predictable Profits is a leading small business marketing company, specializing in finding overlooked marketing opportunities commonly found in most small-to-medium sized businesses for generating quick, dependable, and predictable profits without having to spend any more money in advertising. The company shares their marketing strategies with its Insiders' Club Members, private clients, and on their blog.