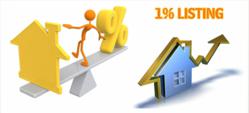 The most inexpensive way to sell a home. Period.
Los Angeles, CA (PRWEB) April 19, 2013
Time and again consumer have tried to sell homes using the "For Sale by Owner" websites, yard signs etc, as per NAR, FSBO accounted for 10% of home sales in 2011. They also state that owners had trouble with the following tasks:

Getting the right price . . . 12%
Understanding and performing paperwork: 11%
Having enough time to devote to all aspects of the sale: 6%
Preparing/fixing up home for sale: 5%
Selling within the planned length of time: 5%
Introducing 1% Listing, the folks at this company are removing the guess work in selling a home. They are a full service brokerage, so why risk the possibility of missing some important disclosure, let them handle all the paperwork. All of these services along with a lot more is what a REALTOR® from 1% Listing is going to provide for just 1% of the selling price, compare their services on their website.
Most homes listed (if priced right) receive multiple offers, the seller gets a choice to identify the right buyer for the right price, before deciding to sell the house. In a market like this, why sell a home using "For Sale by Owner (FSBO)". The folks at 1% Listing are a FULL SERVICE BROKERAGE...they can list a property and provide all the services for just 1%.
About One Percent Listing:
With a total of 8+ years of Real Estate experience, they have effectively turned listings into sales, and buyers into owners. As real estate specialists, they know what it takes to sell a home. They bring expert knowledge and valuable experience blended with the latest technology, a well-defined marketing plan, a cohesive network of online, print and newspaper marketing, energy, enthusiasm and the satisfaction of a job well done.
Contact @ 855.935.3639 or via our Website.
DRE# 01474866