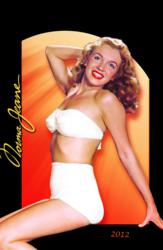 St. Helena, CA (PRWEB) April 18, 2013
The 2012 vintage of Norma Jeane – A Young Merlot was released today and makes quite a debut, with the fresh and exuberant qualities so often captured in photos of Marilyn Monroe in her early Hollywood years.
Norma Jean Baker was a Hollywood starlet in the 1940s who caught the eye of many a publicist and photographer long before she became the first nude centerfold model of Playboy Magazine in 1952 as Marilyn Monroe. The label for the 2012 vintage of Norma Jeane – A Young Merlot is from Bruno Bernard's collection of early photographs of Norma Jeane. This photo is fun, joyous, innocent and perfect for this playful wine.
This is a must have for any Marilyn Monroe collector as it reflects her freshness and youthful charm but it is also a bottle of wine for those who enjoy drinking, or sharing with friends, the exhilaration of a spirited and delicious Merlot.
April 1, the 2013 vintage of Norma Jeane – A Young Merlot will be in nationwide distribution at a suggested retail price of $13.00 and is also available on the MarilynWines.com site and at the tasting room of the Napa Wine Company in Oakville. Other Marilyn wines currently available include Marilyn Merlot; Marilyn Meritage; The Velvet Collection; Sauvignon Blonde; and Blonde de Noirs sparkling wine. These wines can also be ordered by calling (707) 963-5475, or toll free at (866) MMWINES.
Further information:
Donna Holder
(707) 963-5475
mail(at)marilynwines(dot)com