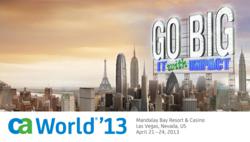 Understanding the Mobility trends, challenges and the landscape of enterprise mobility is vitally important
Herndon, VA (PRWEB) April 18, 2013
Windward IT Solutions, the pioneer in Service-Centric IT solutions, announced that Windward's Sean McDermott, CEO and Founder, will speak at CA World 2013 in Las Vegas later this month. With over 20 years experience helping hundreds of global clients better manage their IT environments with proven solutions and strategic consulting, Mr. McDermott will discuss enterprise mobility management.
"Every organization has unique requirements but must begin with a solid strategy, especially when company-sensitive information resides on employees personal devices," said Sean McDermott. "Understanding the Mobility trends, challenges and the landscape of enterprise mobility is vitally important as we see very broad industry adoption, and I am looking forward to diving deeper into this with IT professionals at CA World."
Virtual offices are essentially transforming IT and Mr. McDermott will focus on understanding mobility trends and the challenges associated with enterprise mobility. Also being addressed will be the layered approach to mobility and how to leverage existing ITSM strategy with mobility.
About CA World 2013
CA World 2013 is CA Technologies flagship event. At CA World 2013, attendees will discover groundbreaking ideas and find exclusive networking opportunities and access to the latest technologies. It's where IT daredevils, legends and rising stars gather to exchange perspectives, showcase the latest innovations and empower each other to deliver IT with optimal business impact.
About Windward IT Solutions
Founded in 1997, Windward IT Solutions is at the forefront of Service-Centric IT. With strategic consulting, unparalleled technical expertise, and our proven Windward Service-Centric IT Roadmap, we help our clients align the core competencies of process, organization, information, and technology to effectively address business and mission priorities. Windward offers a proven set of technology-independent solutions focused on the three core disciplines of Service-Centric IT – Service Management, Infrastructure Management, and Operations Management – to help our clients plan and deliver high-impact IT services. Windward is headquartered in Herndon, VA. More information on the company can be found online at: http://www.windwardits.com.