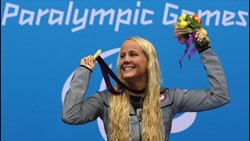 Los Angeles, CA (PRWEB) April 18, 2013
2012 London Paralympic Gold Medalist, Mallory Weggemann (http://www.factory-agency.com/athletes/mallory-weggemann), will be sharing her athletic trials and tribulations on April 20 at the Suburban Seahawks Swim Club with the Middle Atlantic Swimming Disability Clinic. The event will take place from 12p.m. to 3p.m.
Weggemann, who is the main guest speaker for the event, will be joined by Middle Atlantic Board Member and USA Swimming's National Disability Committee member Jon Larson of the Emmaus Aquatic Club, as well as by US Paralympic National Team coaches Brian Loeffler of Loyola University and Andrew Barranco of Merritt Athletic Swimming. This athletic speaking engagement will address and engage with athletes who have cognitive and physical disabilities.
During the event, Weggemann will speak about her life changing obstacle at the age of 18 – when she became paralyzed from the waist down after complications from a routine epidural to help treat back pain. She'll also detail her decision to return to the pool just three months after the ordeal to resume her athletic career as a competitive swimmer.
To date, Weggemann has broken National and World records, and is the reigning 50m freestyle Paralympic Champion. Her awards include:

Paralympic Gold Medalist – 50m Freestyle (2012)
Paralympic Bronze Medalist – US Medley Relay Team (2012)
15 World Records
34 American Records
ESPN ESPY Winner, (http://espn.go.com/espn/story/_/id/6767665/2011-espy-awards-winners-revealed-los-angeles) Best Female Athlete with a Disability (2011)
USA Swimming Disabled Swimmer of the Year (2009, 2010, 2011)
Swimming World Magazine Female Disabled Swimmer of the Year (2009, 2010)
Winner of Eight Gold medals and One Silver Medal in the IPC Swimming World Championships (2010)
Weggemann is represented by The Factory Agency, which is a sports and entertainment marketing agency that specializes in enhancing clients' brand images. It constructs and supports brand images based on five principle pillars – by supporting one's professional career, philanthropy, business interactions, resources and infrastructure, and public exposure.
To register for Weggemann's speaking event, please contact Danielle Strader-Bordi, Diversity Chair of Middle Atlantic Swimming, at maswimdiversity(at)yahoo(dot)com.
About The Factory Agency
The Factory Agency is a sports and entertainment agency that represents experienced athletic clients boasting Olympic titles, NFL titles, and international and national awards. Clients come from a spectrum of backgrounds, including NFL, Olympic, Paralympic and lifestyle personalities. The agency shapes an athlete's brand image by aligning with influential partners, maximizing public exposure, increasing endorsement and sponsorship opportunities, and more. Services include talent representation, contract negotiation, marketing, speaking engagements, licensing and endorsements, philanthropic consulting, media production and development, corporate consulting, and more.
To learn more information about The Factory Agency visit http://www.factory-agency.com.