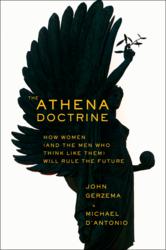 "A captivating look at how individuals, regardless of gender and ethnicity, view behaviors as masculine, feminine, or neutral. A fascinating case study of human nature… insight into future world leaders." - Publishers Weekly
San Francisco, CA (PRWEB) April 19, 2013
In THE ATHENA DOCTRINE: How Women (and the Men Who Think Like Them) Will Rule The Future (April 16, 2013; Jossey-Bass), bestselling author John Gerzema and Pulitzer Prize winning journalist Michael D'Antonio explore today's astonishing rise of feminine values in businesses, governments, and community organizations.
Armed with the results of their landmark survey, a team led by Gerzema and D'Antonio traveled to 13 countries, from Iceland to Peru to Bhutan. The authors uncovered remarkable examples of women and men redefining success and solutions in every realm, with "feminine" values like empathy, communication, patience, collaboration, and shared prosperity.
These stories bring the authors' extensive data to life:

In Jerusalem, the 89 year-old president of Israel, Shimon Peres, has begun a global campaign to create leaders who are "servants."
In Reykjavik, a new government recovering from financial scandal crowd-sources its new constitution by listening, inclusion and building consensus with citizens.
In Berlin, a Harvard-trained virologist, frustrated with egos in medicine, starts a social network for Scientists – ResearchGate – which has 2 million members in 200 countries.
What do all of these visionaries have in common? They represent a world-wide swing in favor of softer, kinder leadership, and their success heralds the end of the winner-takes-all masculine way of getting things done.
The stage was set for this revolution by financial calamity, political gridlock, intractable wars and worsening social problems, which occurred under the rule of men. In response, commerce and community have become governed by compassion and empathy.