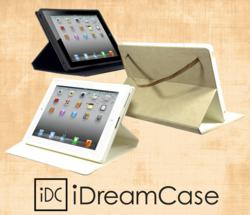 Our mission is simple: create a case our clients will love and cherish for years to come.
San Francisco, CA (PRWEB) April 18, 2013
Staying true to the mission of delivering superior tablet cases, iDreamCase has grown its selection to include three additional iPad Stand Case colors, including Steel, Ivory and Sand along with existing Crimson. iPad mini users will also find a growing color palette on iDreamCase's booming Etsy store.
iDreamCase's popularity in the technology-rich Bay Area has made iDreamCase available in retail stores regionally, including San Francisco, Walnut Creek and Palo Alto. New retail positioning will make the stylish iPad cases more accessible to a variety of customers.
"We want to give our customers the best quality products. Our mission is simple: create a case our clients will love and cherish for years to come. That means giving our customers the chance to customize their tablet case to reflect their unique lifestyle—from CEO's of national corporations to a college student," says iDreamCase owner, Gabi Hanoun. "An expanded color collection of iPad Case is just the beginning."
With no shortage of tablet and smartphone options, differentiation is vital for this growing line. Each iDreamCase is designed with tablet functionality and protection in mind. Increased demand of these handcrafted, elegant tablets has inspired the iDreamCase team to launch a new design, to be announced soon.
About iDreamCase
iDreamCase handcrafts superior quality, truly handmade products using only the finest materials. Guided by the strong commitment to handmade artisanship, iDreamCase designs and creates luxuriously protective handmade iPad cases, iPad mini cases, iPhone5 cases, Google Nexus7 cases, Amazon Kindle Fire HD cases and sleeves and iPhone 4/4S/5 sleeves. Made from elegant fabrics imported from Italy and exclusive black genuine leather, iDreamCase products offer a superior design aesthetic, provide sophisticated style and protection, and reflect centures-old, unmatched handmade craftsmanship. Master bookbinder Gabi Hanoun artfully weaves over 30 years experience into each handmade tablet case and sleeve and smart phone sleeve, truly revolutionary products in handcrafted artistry. More information, http://idreamcase.com.