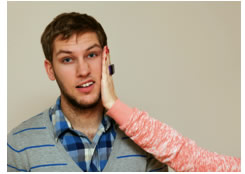 Brooklyn, NY (PRWEB) April 18, 2013
Missouri native Kyle Ayers has joined Laugh Staff Inc. to bring his flavor of funny to best man speeches and best man speech examples.
Laugh Staff is thrilled to have him. Ayers has performed alongside many of the greats in comedy such as Nikki Glaser, Dave Attell, Nick Thune, Reggie Watts, Tommy Johnagin and more. He has trained at both Second City and iO in Chicago.
In addition to writing for Laugh Staff, Ayers writes for CBS and korkedbats.com. He has also written for The Huffington Post and was in the feature film Box Elder as well as several other films.
"I'm glad to have Kyle on board with Laugh Staff," said co-founder Cameron Amigo. "If you follow him on Twitter you'll see he's capable of short, concise, funny comments. It's perfect for writing funny best man speeches because the best man has a short amount of time to get his point across. We're confident he will do great things with Laugh Staff."
Ayers also hosts a comedy show in Williamsburg, Brooklyn called Game Night as well as the Almost (Internet) Famous sketch film awards. He, himself, has starred in many sketches and has had the honor of being featured on the front page of funnyordie.com.
For more information about Laugh Staff, Inc. visit http://www.laughstaff.com, call 740-706-6690 or email info(at)laughstaff(dot)com.
About Laugh Staff, Inc:
Laugh Staff, Inc. was founded in 2012 by a team of comedians and writers in Cleveland, Ohio. Laugh Staff helps their clients with best man speeches as well as providing best man speech examples on their blog. They assist best men and maids of honor in speech-editing, speech writing, and provide training on speech delivery. Recognizing the importance of the big day, Laugh Staff's professional comedians work with best men and maids of honor to ensure they make a lasting impression.