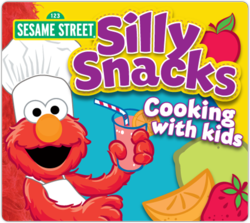 Chicago, IL (PRWEB) April 18, 2013
Publications International, Ltd. is proud to team up with Sesame Workshop for the release of iCookbook™ 3.1, featuring a new collection of recipes for kids and their parents: Sesame Street's Silly Snacks. This special recipe collection, available exclusively as part of iCookbook™, offers parents and children a hands-on way to cook together and learn about healthy snacking with the help of Elmo, Big Bird, Cookie Monster, and other Sesame Street friends. Each recipe includes parent tips, fun facts, and cooking steps designed just for kids.
The 20-recipe collection, available for $2.99, includes snacks of all types, like Oscar's SCRAM-bled Egg & Zucchini Pie and Big Bird's Little Nests. Even the pickiest eaters will find something to love.
In addition to the Sesame Street® collection, iCookbook™ 3.1 features more than 2,100 recipes hand-picked by the iCookbook™ team of food experts and accredited nutritionists, giving everyday cooks an easy way to navigate and discover a wide variety of accessible and affordable meal options for their family.
This updated version of iCookbook™ is also filled with user-friendly features that help streamline the entire cooking process including advanced filters and sorting to search for recipes based by theme, ingredient, cuisine, brand (Hershey's®, Campbell's®, Crock-Pot® etc.), voice-command technology to advance a recipe's instructions completely hands-free, create shopping lists, watch how-to videos, even access articles, conversion charts, measurement tools and more. Each month, iCookbook™ owners can also download more free recipes to add to the app, as well as purchase themed premium recipe collections like the Sesame Street® Silly Snacks Collection via the iCookbook™ in-app store.
"Helping families find easy ways to enjoy eating healthy is a core mission of Sesame Workshop, so we are very pleased to partner with Publications International to bring a selection of good-for-you snacks to families who use digital cookbooks," said Jennifer A. Perry, Sesame Workshop's Vice President of Worldwide Publishing. "The iCookbook™ Silly Snacks collection is our first app that specifically seeks to provide parents and children a fun way to cook healthy together."
iCookbook™ featuring Sesame Street® Silly Snacks is available for iPad, iPhone and iPod touch at iTunes https://itunes.apple.com/us/app/icookbook-thousands-name-brand/id420762854
Publications International, Ltd. has previously worked with Sesame Workshop® to publish a number of print cookbooks, sound books, and storybooks .
For more information about iCookbook™ and its family of white-label cooking applications including iCookbook™ Diabetic, CROCK-POT™ Recipes, Butterball® Cookbook Plus, Johnsonville® Kitchens and more please visit http://icookbook.com/.
ABOUT PUBLICATIONS INTERNATIONAL, LTD. (PIL)
Publications International, Ltd. (PIL) is one of North America's leading publishers of cookbooks, with more than 400 active cookbook titles and more than 50 recipe magazine releases annually. PIL's award winning iCookbook™ platform is available on Windows, Apple and Android devices. http://www.pubint.com
About Sesame Workshop
Sesame Workshop is the nonprofit educational organization that revolutionized children's television programming with the landmark Sesame Street. The Workshop produces local Sesame Street programs, seen in over 150 countries, and other acclaimed shows including The Electric Company, to help bridge the literacy gap. Beyond television, the Workshop produces content for multiple media platforms on a wide range of issues including literacy, health and resilience. Initiatives meet specific needs to help young children and families develop critical skills, acquire healthy habits and build emotional strength to prepare them for lifelong learning. Learn more at http://www.sesameworkshop.org.