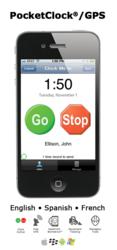 We're continuously adding new features to ExakTime Mobile to meet the growing demands of our industry.
Los Angeles, CA (PRWEB) April 23, 2013
Constructech magazine today announced ExakTime's PocketClock/GPS mobile time tracking app as a residential winner of its annual Top Products award.
The 2013 award honors technology solutions that have demonstrated the greatest innovations geared toward the homebuilding market.
Selected by Constructech's editorial team based on its usefulness, uniqueness and ease of use, the ExakTime Mobile smartphone app tracks remote labor in real-time, with GPS precision, management tools and photo biometrics – eliminating wasted time and costs associated with paper time cards.
"Now is a time of innovation for homebuilders. Construction professionals are looking to implement technology that can help differentiate themselves from competition. The winning 2013 resident Top Products do just that," said Peggy Smedley, editorial director at Constructech. "These products provide customers with the ability to increase mobility, efficiency and their profitability."
Originally released in 2008, ExakTime Mobile recorded more than 15 million clock in's in 2012 alone, across six different continents. It now tracks time and attendance essentials like employees, job sites and cost codes, as well as advanced measures including GPS coordinates, equipment, materials, budgets and more.
It also includes FaceFront™ Biometrics – a feature that utilizes a smartphone's front-facing camera to snap photos of employees when they clock in and out, eliminating the risk of buddy punching.
ExakTime Mobile comes equipped with supervisor tools as well. Foremen can track an entire crew from one mobile device and wirelessly sync the records to their office, via ExakTime's secure cloud service, for payroll.
Synchronization is automatic and takes mere seconds – eliminating drive time and fuel costs spent while collecting time cards. The digital records upload to ExakTime's office time tracking software, TimeSummit, for payroll clerks to review and approve.
"We're continuously adding new features to ExakTime Mobile to meet the growing demands of our industry," said Tony Pappas, ExakTime's CEO. "Getting recognized for these enhancements confirms that we're adding the right tools for contractors without getting away from the core foundation of our time clocks – simplicity."
The ExakTime Mobile app runs on iOS, Android and BlackBerry smartphones and tablets.
*****
Founded in 1999, ExakTime is the construction industry's leading time and attendance system in North America. As the leader in wireless, mobile and rugged timekeeping solutions, ExakTime systems are used every work day by more than 700,000 workers from dozens of industries in more than 120 countries.
For more information, visit: http://www.exaktime.com