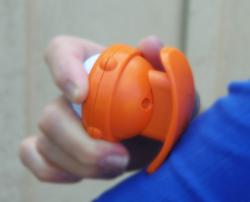 This is an excellent little device. Easy to carry and simple to use. But most of all, very effective! Would highly recommend it to anyone who wants or needs a quick efficient tool to help their muscles recover after strenuous activity.
Phoenix, AZ (PRWEB) April 24, 2013
Zippy Rolling Ball Therapy devices are now available at the iRun Shop, located at 4730 E. Indian School Road, #125, Phoenix, AZ in the Arcadia Plaza Shopping Center.
iRun is a full-service running, walking, and trail run shop owned by Mark and Katie Cosmas. iRun carries everything you need to run, walk, and hike, and do it better and safer. Mark is a seasoned marathon and ultra-marathon runner who decided to trade in his corporate life and live a life that would positively affect others. Mark and his staff have a happy store, and they are most generous in helping everyone find what they need to succeed. The store and Mark's passion for running are infectious. He's brought knowledge and fun to running in the Phoenix area and strives to help others in their quest to run or just get in shape. The iRun running store is the home of Team Taylor, a charity dedicated to research in SIDS in his daughter's name. Please explore the site and stop by the store to pick up your gear, including a Zippy or two! http://www.irunshop.com
Zing Partners LLC created, manufactures, and distributes the Zippy Rolling Ball Therapy massage device line. Zippy RBT devices are based on the exceptional massage performance of the common golf ball. Durable, easy to use Zippy devices are first choice of athletes, personal users, and professional therapists for peak performance, relaxation, and therapy. Zippy massage tool were designed to relax sore muscles and joints, sooth pressure release points, untie "knots," and bring added circulation in soft tissue. Each durable, "patent pending" Zippy tool permanently houses a golf ball within a precision high-tech shell for easy grip and comfortable handling. Zippys offer convenient access to massage for relaxation or therapeutic treatment with a smooth, easy rolling device. Zippy RBT devices comes in three models: the Basic, the Rocker Handle, and the T-Handle. The Rocker and T-Handle models extend grip opportunities and provide integrated therapy tools for expanded functionality. Zippy RBT devices are compact, convenient to carry and use, readily accessible in golf bag, purse, pocket, glove box, nightstand, and sports bag. Excellent to use when frozen for spot on cold therapy. Please visit http://www.zippymassage.com for more information.
Zippy Rolling Ball Therapy massage devices are available online at http://www.zippymassage.com and on Amazon. Check out the Zippy RBT YouTube Channel, http://youtu.be/ajJWhzr1c5M. Visit Zippy RBT – Rolling Ball Therapy on Facebook and "Like." Follow @ZippyRBT on Twitter, https://twitter.com/ZippyRBT.
Zippy Rolling Ball Therapy devices have been submitted for the 2013 Core77 Design Awards.