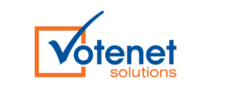 "PCI Compliance further ensures the airtight security of the mission-critical voting events and associated voter data that our clients entrust to us," said Michael Tuteur, CEO of Votenet Solutions
Washington, DC (PRWEB) April 19, 2013
Votenet Solutions, the leading provider of online voting and balloting software, has announced that it is compliant with the security standards established by the PCI Security Standards Council and that the company's systems and solutions now meet PCI Compliance.
PCI Compliance is a set of comprehensive, voluntary requirements developed by the PCI Security Standards Council to enhance user data security and facilitate the adoption of consistent data security measures by third-party service providers. The comprehensive standards for data security help organizations proactively protect customer account data and apply to both merchants as well as service providers that store, process, or transmit data.
"What does this mean for our clients? That data is secure and segregated – we're essentially treating their voter's data the same way major retailers treat and protect their customer's personal data and information," said Michael Tuteur, CEO of Votenet Solutions. "PCI Compliance further ensures the airtight security of the mission-critical voting events and associated voter data that our clients entrust to us."
Votenet underwent the voluntary process of self-assessment, review and implementation of policies, procedures and technologies to meet PCI Compliance requirements as a Level 3 service provider, and will proactively continue to maintain these best practices moving forward, according to Tuteur.
In addition to PCI Compliance certification, Votenet Solutions verifies security of the company's systems and data through a number of other certification programs including:

Hyperion Security Audit - protects against outside vulnerability and attacks of the Votenet Software including internet attacks on the software, servers and data pathways.
Interfor Physical Security Certification - reviews Votenet's security policies, protocols and procedures to evaluate the company's level of protection against internal an external threats.
SSAE 16 Certification - verifies the security, redundancy and reliability of our Savvis hosting facility.
Norton SSL Security - helps Votenet secure and encrypt data exchange and defend against any potential risks including data theft, intrusion and hacking.
For more about Votenet's security procedures and certifications visit the Votenet website.
About Votenet Solutions, Inc.
Founded in 2001 Votenet™ Solutions, Inc. is dedicated to its mission of giving everyone a voice and helping everyone make decisions. It is the trusted provider of secure do-it-yourself voting and balloting software and outsourced election management solutions. Every day, Votenet helps the world's most recognized organizations, communities, and companies collaborate with stakeholders to elect new leaders, make important decisions, and set new policies. It is headquartered in Washington, DC and serves over 1,500 customers.