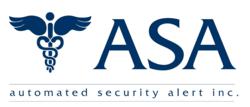 (PRWEB) April 20, 2013
Pittsburgh-based Automated Security Alert is a company that specializes in providing home medical technologies and Life Safety Monitoring for seniors, transitioning patients, and individuals with disabilities which enable them to live independently. Automated Security Alert's new platform is unique because it specializes in communication devices for health care, while most medical alarm companies are operated by security companies. Generally their approach is to dispatch an ambulance exclusively on any activation. Because Automated Security Alert is strictly involved in the medical applications, it can customize dispatching procedures which may reduce false ambulance runs, saving clients and their insurance companies significant amounts of money. Additionally, clients benefit by reporting symptoms or asking questions without having an ambulance sent. In cases where a senior might be in the beginning stages of a health emergency or having a reaction to medication, they can communicate to a Life Safety Operator their needs. This can result in patients receiving treatment much quicker, resulting in better long-term outcomes.
Jason Seyler, Automated Security Alert's Director of Life Safety explained, "With the new health care initiatives, health plans and the health care community in general are finally realizing the value of medical alarms. When a patient is getting treated for an illness from their homes, the health care team is responsible for producing better outcomes and reducing the number of times a patient ends up in the emergency room. With a medical alarm and Life Safety monitoring from Automated Security Alert, the patient can request specific types of assistance from within the home and receive the right help. They may not always have to go directly to the emergency room. Many situations can be rectified through a conversation or by sending a family member or neighbor over to the patient's home."
For further information, please contact Matthew Couillard at 1.800.338.7114.