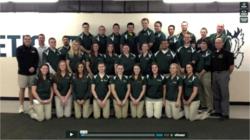 The most valuable aspect of NATM is that ATs get to see what they mean to the people that they dedicate their lives to helping.
Rochester, NY (PRWEB) April 18, 2013
As National Athletic Training Month (NATM) 2013 comes to a close, the NYSATA would like to congratulate it's contest winners and recognize all of the athletic trainers (ATs) in NYS that took part in promoting the AT profession, as 'Every Body Needs an Athletic Trainer'.
The first-ever Athletic Training Education Program (ATEP) Student Video Contest drew entrees from four of the eleven accredited ATEPs in NYS – Alfred University, the College at Brockport, Dominican College, and Marist College. They were asked to create a brief video depicting "Why Every Body Needs an Athletic Trainer". With over 1,900 votes, the overall contest winner was the College at Brockport ATEP whose video was created by students Dana Bennett and Casey Everhart. In addition to a monetary award, the Brockport ATEP will be recognized and their video shown at the NYSATA Annual Conference in Jamestown, NY this June. In a neck-and-neck race, the Alfred University ATEP video, put together by Eden Palmer and Cameron Apt, was a close runner-up and the Dominican College ATEP video, created by Seniors Cassy Hryniowski and Danielle 'DJ' Johnston, rounded out the top three after winning a tight battle with the Marist College ATEP video. The contest drew over 4,000 total votes in just one week of open voting and videos can still be viewed on the NYSATA website.
NYSATA's two social media contests were also a success, adding over sixty followers on Twitter (@GO_NYSATA) and nearly 150 new Likes on Facebook. The NYSATA Twitter Trivia contest tested the knowledge of its followers on NYSATA-related and general AT trivia questions each weekday during March. Out of the twelve participants, Meg Greiner, MS, ATC, athletic trainer at Hendrick Hudson High School (Montrose, NY) was the contest winner. She was the first to correctly respond to ten (out of a possible 21) questions!
The Facebook 'You and Your Athletic Trainer' Photo contest drew nine participants and over 1,000 total votes. The photo posts included touching messages of gratitude to their certified athletic trainers and some even posted multiple photos to show their appreciation. The contest ran throughout March and a battle for the most Likes ensued with multiple lead changes up to the end. The winner, with 355 Likes, was Christine Sherlock and her son, Rob, who posted a photo of Carla Pasquarelli, ATC, athletic trainer at Amsterdam High School (Amsterdam, NY). For their efforts, the AT will win $100 in merchandise to enhance her AT services at the school courtesy of NYSATA and Henry Schein. Finishing close behind with 317 Likes, was the photo post by student-athlete Ashley Gomez of Erin Finnegan, ATC, both of Canisius College (Buffalo, NY). The third photo post that had an early run for the lead was from Julian Boyd, an AT student at Long Island University (LIU) Brooklyn, of his supervising athletic trainer, Danny O'Conner, ATC. The most valuable aspect of this event was that ATs got to see what they mean to the people that they dedicate their lives to helping.
In addition to the NYSATA-sponsored initiatives, there were various other NATM events held around NYS. The Section One Athletic Trainers' Society (SOATS), in conjunction with NYSATA, held an Airway Management Workshop free of charge to local ATs. Hendrick Hudson High School welcomed a visit from the NATA Public Relations Manager, Ellen Satlof. NATM announcements and signage for the NYSPHSAA Boys Basketball Championships in Glens Falls, NY were secured by the host athletic trainers. Stony Brook University visited the Today Show with NATM signage, and also visited the ATs at Columbia Prep School and the NY Rangers. The Canisius College ATEP, Daemen College ATEP, and LIU Brooklyn AT Student Club all held events on their respective campuses to help promote and celebrate NATM. The University of Buffalo AT staff celebrated NATM with during a home basketball game, where the Daemen College AT Student Association assisted by hosting a table to lobby for signatures to the 'AT in Every School' petition. The Middletown High School Sports Medicine Club promoted NATM by hanging posters around the school, and the Horace Mann [Middle] School celebrated the 7th year of its Sports Medicine curriculum, started and taught by their athletic trainer.
NYSATA, founded in 1976 and incorporated in 1989, stands to advance, encourage and improve the profession of athletic training (AT) by developing the common interests of its membership for the purpose of enhancing the quality of healthcare for the physically active in New York State. Comprised of over 1,200 certified and practicing athletic trainers, NYSATA is the state-wide affiliate of the regional Eastern Athletic Trainers' Association (EATA) and District Two of the National Athletic Trainers' Association (NATA).