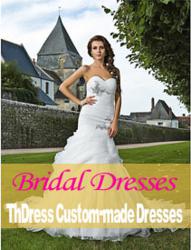 ThDress.com Announced Greats Discounts on its Beach Wedding Dresses
(PRWEB) April 19, 2013
Today, ThDress.com, the distinguished wedding dress manufacturer and retailer, is proud to announce great discounts on its beach wedding dresses.
A few days ago, ThDress.com announced new beach style wedding dresses that all are made with quality materials. Today, the company launched a great discount on these new wedding dresses.
Beach wedding dresses are suitable for outdoor weddings especially beach weddings. This kind of dress contains various colors, such as white, ivory, pink, and champagne and so on. Customers can choose the best suitable wedding dress at ThDress.com.
Thdress.com pays more attention to meeting ladies' tastes from all over the world. The dresses from ThDress.com are popular and pretty. You can find dresses such as princess wedding dresses,strapless wedding dresses, etc. easily on the homepage of ThDress.com.
Adela, a girl from London said, "My beach wedding dress with ruffle beading is from ThDress.com. It is a dress that can dazzle my friends. I love the dress very much!"
About ThDress.com
Established in 2009, ThDress is a manufacturer specialized in the development and production of women's clothing. All of our products comply with international quality standard and are greatly appreciated in a variety of different markets throughout the world.
View more information about wedding dresses http://www.thdress.com.